CRANBROOK SIGHTING #6
Sighter: Chad Alligood
Sighted: Eliel Saarinen's First Christian Church, 1940-42; Eero Saarinen's North Christian Church, 1964; Harry Weese's Cummins Engine Company Tech Center, 1968
Location: Columbus, IN
Date:  February 22, 2013
Part one of my road trip from Michigan to Kentucky brought me to the doorstep of Eero Saarinen's Miller House in Columbus, IN. Here, then, I submit for your consideration part two: the rapid-fire highlights of my whirlwind, self-cobbled tour of Cranbrook in Columbus.

3:02 PM, Friday afternoon: I need to be in Louisville, KY—about 75 miles away—by 5 PM. Short on time but long on curiosity, I decide to hit as many of the Cranbrook-related local gems of modern architecture as possible before I hit I-65 South.
3:04 PM: I wander out of the Columbus Area Visitor's Center, map in hand, attempting to plot an architecturally significant route while walking. As I ponder which cool building is closest, I look up from my map to be confronted with the answer: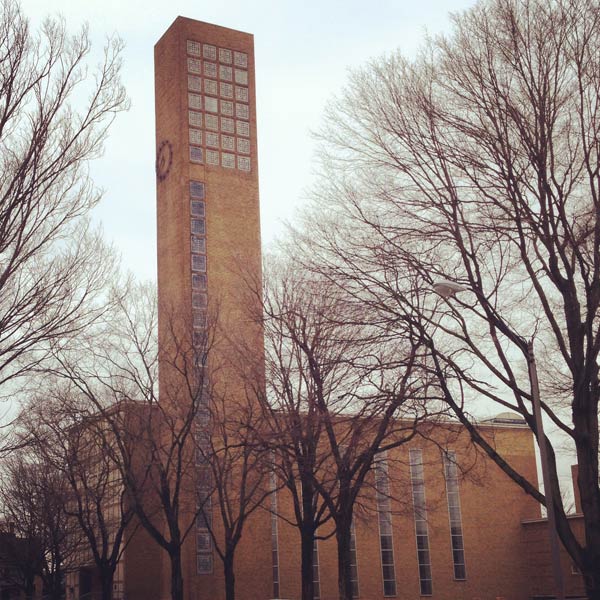 Crisp lines, modern geometry and repetition, minimal ornament: the soaring tower of Eliel Saarinen's First Christian Church breaks my nerd-alert map concentration. It's difficult even now to imagine how such a monumental reduction of form emerges so early in the century: Eliel begins work on this project in 1940 (at the same time as he develops the design for Cranbrook Art Museum, with which the church shares numerous stylistic attributes). Composed of three rectangular wings surrounding a sunken garden, First Christian Church comprises an essay in clarity of thought and unity of overall form. Taking cues from the earlier models of his Finnish countrymen Alvar Aalto and Erik Bryggmann, Eliel—in concert with his son Eero—imbued the rational, linear form with the tactile material warmth of buff stone panels and tan brick. Bonus vintage shot of the church under construction on March 19, 1941, courtesy of Cranbrook Archives: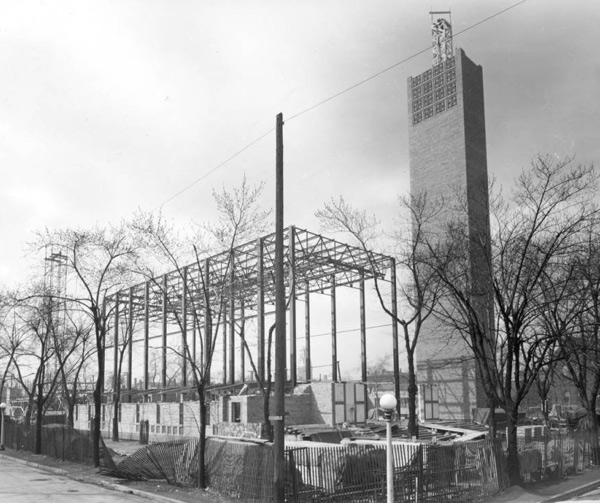 3:19 PM: I try to enter several locked doors of the church. I fail. I curse.
3:21 PM: With no time to linger, I hop into Celeste, my beloved '91 Camry, bound for yet another Saarinen church—but this one is Eero's. As I drive up the winding path, North Christian Church looks as if it could lift off at any moment. In his architectural vocabulary of simplified forms, Eero sought a language that would "clearly and logically express the form and character of the church." Hexagonal in plan with a 192-foot spire, the building cuts a knifelike silhouette through the high cloudbank of a February storm: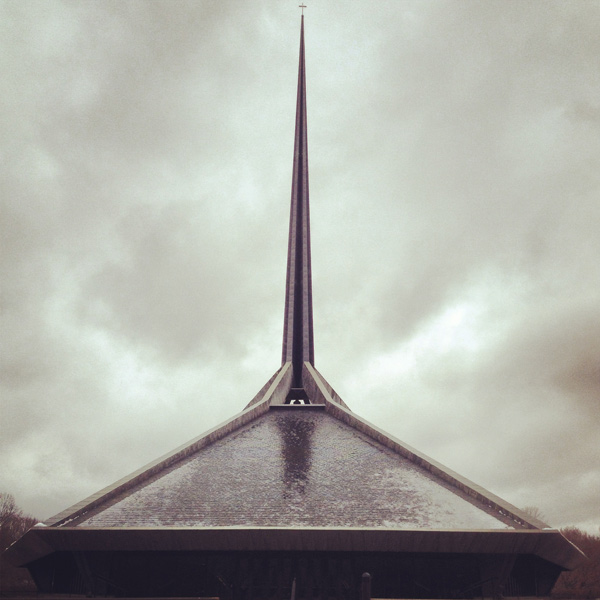 Given the chilly drizzle and the fact that it's early Friday afternoon, I have the place to myself. I steal a moment of quiet under the curved awning, reveling in Eero's visionary forms and sensitive materials.
3:30 PM: I try to enter several locked doors of the church. I fail. I curse.
3:36 PM: With only time for one final drive-by, I plot my next move on the way to the I-65. I settle on the quirky, proto-Brutalist Cummins Engine Company Tech Center designed by Cranbrook alum Harry Weese in 1968. I'm always drawn to the concrete construction and repetitive form of American architecture of the late 1960s and 1970s—it's often so withholding, so dutiful in its drilled-down muscularity. Weese enlivens the façade with idiosyncratic pre-cast concrete sun shades over each of the glass exterior windows. I find a certain awkward charm in this strange detail, so I snap a photo through the fence: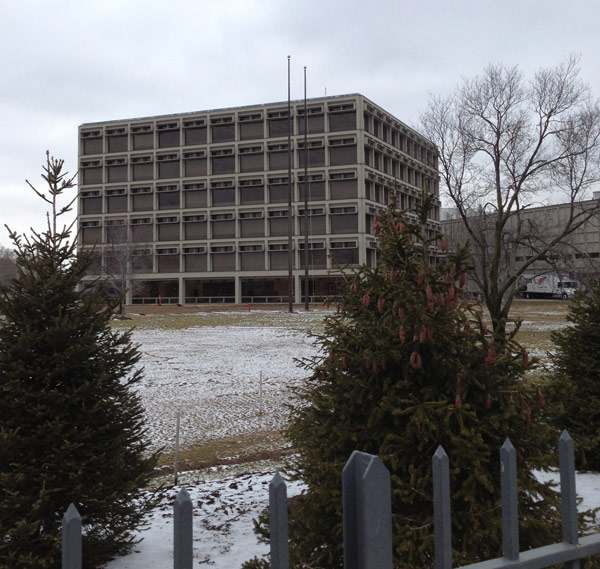 3:45 PM: Kentucky beckons. With Weese's blocky concrete in my rearview mirror, I hit the highway headed south—with Cranbrook Sighting #7 no doubt just around the corner.
Posted by Chad Alligood
2012-13 Jeanne and Ralph Graham Collections Fellow