CRANBROOK SIGHTING #9
Sighter: Shelley Selim
Sighted: Eliel Saarinen, Helsinki Central Railway Station
Location: Helsinki, Finland
Date: July 4, 2012
There was a two week block of last summer when at any given moment I could be found clapping, beaming, and prancing with merriment; arms open to our joyous earth's embrace. No, I hadn't finally completed my master's degree (that would come later—with commensurate celebrating in its own right), but rather had landed on Nordic soil, where I completed the remainder of my graduate coursework studying Scandinavian design amidst the incredible apples and countrysides of Sweden and Finland.
How befitting that on our American day of independence, I disembarked in Finland, a country that was also shaped by the struggle for its own autonomy (a struggle which persisted for centuries longer than that of the Tories and the Patriots, I might add). That morning I launched my tour-laden itinerary with a walk to the hub of public transit: the Helsinki Central Railway Station. Conceived by Cranbrook mahatma Eliel Saarinen in 1904, it underwent myriad design revisions before reaching its completed form in 1919. While technological modernization has necessitated considerable renovations to the building's interior over the years, the external structure remains largely in its original, magnificent state.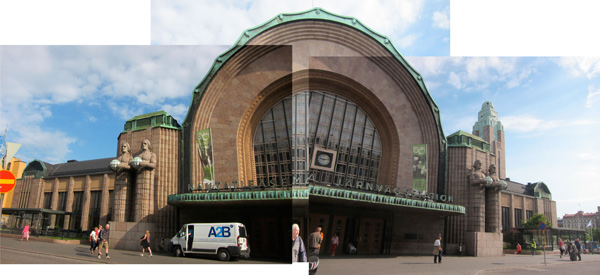 Please excuse my blatant Hockney expropriation here. Armed with only an iPhone and a cheap point-and-shoot camera, in my travels I'm often forced to "assemblage" my fractured photographs in a sad attempt to capture the visage of any large building situated on a narrow street (read: most of metropolitan Europe).
Like much of Saarinen's oeuvre, the Helsinki Central Railway Station is widely celebrated as an architectural masterpiece. Personally, it most appeals to me both as a signifier of the growth of the twentieth-century urban landscape as well as Eliel's own transition toward a more rationalist approach to design. His original elevation aligned closely with the turn-of-the-century National Romantic style he championed in Finland, most notably the National Museum of Finland (1902-1912) and the Finnish Pavilion at the 1900 Exposition Universelle in Paris, both efforts of the Gesellius, Lindgren, and Saarinen architectural firm.
But in the early 1910s, at this point fully abreast of the appeals for modern architecture radiating from Germany, Saarinen eschewed the spired tower and carved granite bears of his initial design, replacing them with Olbrich-esque vaults, sweeping vertical lines, and an arresting quad of proto-deco Emil Wikström "Stone Men" sculptures. With arms extended, presenting lantern globes to railway visitors, the brawny figures can be seen as symbols of a newly empowered and independent Finland, or perhaps a nod to the increasing accessibility of once distant lands at the dawn of the 1920s vogue for travel.
The stepped masonry and geometric patterning in the leaded windows would also become Saarinen trademarks, visible on many of the buildings throughout the Cranbrook campus, including the architect's own home.
Posted by Shelley Selim
2013-14 Jeanne and Ralph Graham Collections Fellow