BLOOMFIELD HILLS, Mich., January 21, 2015 – As part of a new series showcasing emerging contemporary artists, Cranbrook Art Museum welcomes Cranbrook Academy of Art graduate Zack Ostrowski for his new exhibition MR. MDWST – A REAL GOOD TIME by BEVERLY FRE$H.
The exhibition will open with an exclusive ArtMembers' reception and performance on February 6, 2015, from 6-8pm. Memberships can be purchased at the door the evening of the event. The exhibition opens to the public on February 7 and runs through March 22, 2015.
MR. MDWST (a truncation of Mister Midwest) is a continuation of the adventures of Beverly Fre$h—a stylized autobiographical character that doubles as an artist persona and stage name for Zack Ostrowski.
Like a postmodern tale of the picaresque, Ostrowski has traveled extensively over the last two years as Beverly Fre$h on a quest to understand, reconfigure, and interrupt the social and cultural rituals of the rural Midwest. He created impromptu, site-oriented performances alone and with strangers at carnivals and country fairs, and in front yards and on back roads, which were recorded for the documentary The Outskirts (2014).
This exhibition screens video documentation from the series and presents new works inspired by his performative research in the Midwest region. In the gallery, Ostrowski has designed three wildly-creative stage sets for new performances inspired by four character tropes he met during his travels: The Badass, The Innocent, The Professional, and The Seeker.
"I am interested in the peripheral elements of our contemporary culture and seek to understand and highlight their imperfect and misunderstood manifestations," says Ostrowski. "I use alternative strategies to examine cultural structures through a variety of media, including drawing, graphic design, installation, rap, folk music, and performance."
According to Laura Mott, Curator of Contemporary Art and Design at Cranbrook Art Museum, "This year we've made a special effort to bring in more emerging or mid-career contemporary artists, with a focus on Detroit-based artists and graduates from Cranbrook Academy of Art. Zack Ostrowski is a native Detroiter, CAA alum, and one of the most energetic and fearless artists I have met in recent years—a perfect fit for this initiative."
Mott continues, "Within moments of my first studio visit with him, I was completely blown away by his radical approach to performance, sculpture and design, with his references ranging from comedy, performance art, rap music, amateur theater, and contemporary theory.  He has spent the last few years on an incredible quest throughout the Midwest, and his work and persona has evolved significantly during the process.  The MR. MDWST exhibition is a significant part of the journey as it creates a stage for this exploration within the contemporary art and museum context."
As part of the exhibition, Ostrowski will stage a series of public performances. These performances all take place against and on top of the sculptural stage he has created in the Art Museum.  The performances include:
MR. MDWST by BEVERLY FRE$H
Friday, February 6 at 6:30pm: Premiere at the ArtMembers' Opening Reception
Sunday, February 8 at 5pm: Encore performance following a series of afternoon lectures
"MR. MDWST" is a forty-minute performance created from documentation and field notes taken during phase one of "OUTSKIRTS," an ongoing series of site-oriented performances to understand, reconfigure, and interrupt the social and cultural rituals of the rural Midwest. Building on the tradition of the "one man show," "MR. MDWST," aims to both entertain and challenge the audience by drawing from the field of oral tradition and exploring devices that allow cultural material to be transmitted such as songs, jokes, sayings, and stories.
AFTER LAUGHTER Presented by BEVERLY FRE$H, Featuring Lynne West
Sunday, March 1 from 12:30pm-1:30pm
Beverly Fre$h presents "AFTER LAUGHTER" a guided session in Laughter Yoga (Hasyayoga) conducted by certified Laughter Yoga Leader Lynne West, "The Mistress of Mirth." This afternoon workshop will explore the various methods and benefits of prolonged voluntary laughter. There will be no complicated poses, just laughter and a real good time. Comfortable clothing and yoga mat suggested.
LANGUAGE IS A HOUSE Presented by BEVERLY FRE$H, Featuring Bry'n Lambert
Sunday March 1 from 4:30-5pm
"LANGUAGE IS A HOUSE" is an inspirational keynote presentation that wanders the unsteady ground between nightmare and ecstasy. Inspired by Heidegger's claim that "language is a house in which man dwells," this program demonstrates how language calls together our basic exigencies and builds a place for us to reside. In this presentation, Beverly Fre$h will introduce Bry'n Lambert, a former reporter who has reinvented himself as a visionary real estate agent. Bry'n will take the audience down his path of reinvention and present some of his latest concepts. This event is open to the public – real estate agents,architects, contractors, and interior designers are especially encouraged to attend.
Note: On March 1, between Ostrowski's two performances, Cranbrook Art Museum will host the Ann Arbor Film Festival from 2-4pm. 
Zack Ostrowski was raised in Detroit and currently lives and works in Chicago. He has a BFA in Graphic Design/Interactive Media from the College for Creative Studies in Detroit and an MFA from the 2D Department at Cranbrook Academy of Art, where he was the 2009 recipient of the Daimler AG Emerging Artist Award. He is an Assistant Professor and Area Head of Graphic Art at DePaul University. He has exhibited and performed throughout the United States and internationally, including in China, Japan, Peru, Poland, Ukraine, Czech Republic, and Germany.
MR. MDWST was organized by Cranbrook Art Museum and curated by Laura Mott, Curator of Contemporary Art and Design, with additional support provided by De Paul University.  The exhibition is part of an ongoing series that presents the work of vibrant emerging and mid-career contemporary artists with a special focus on graduates of Cranbrook Academy of Art and Detroit-based artists.
Other Exhibitions Currently on Display at Cranbrook Art Museum
The Cranbrook Hall of Wonders: Artworks, Objects, and Natural Curiosities
Open through March 22, 2015
The Cranbrook Hall of Wonders draws its inspiration from the precursor to the modern museum: the "Cabinet of Curiosities" or "Wunderkammer," a sixteenth-century collecting and display technique in which art, ornate functional objects, natural oddities, and anthropological discoveries co-existed together as a microcosm of knowledge. This contemporary interpretation is a floor-to-ceiling installation featuring Cranbrook Art Museum's preeminent collection of artworks, design, and craft objects from the twentieth and twenty-first centuries, exhibited alongside cultural properties from Cranbrook's historic campus, and inspired selections from the vast holdings of Cranbrook Institute of Science.
Theater of the Mind
Open through March 29, 2015
Theater of the Mind is an exhibition that focuses on the imagination of the audience. The term "theater of the mind" is used to describe a strategy of self-hypnosis in which one visualizes themself as an actor projected on a screen, thereby simultaneously becoming the protagonist and the audience. Similarly, the artists and designers in the exhibition have created works that are actualized in the viewer's imagination and produce narratives that are not tangibly visible, yet lucid and vibrant.
The exhibition includes seminal artworks by Bruce Nauman, Roni Horn, Hiroshi Sugimoto, Anthony McCall, and design collective Dunne & Raby/Michael Anastassiades. Theater of the Mind also features new work by Marcelline Delbecq, Detroit-based artist Adam Lee Miller, and an ambitious site-specific commission by Finnish artist Hans Rosenström, who created an immersive sound installation based on personal and archival research at Cranbrook.
Coming Soon to Cranbrook Art Museum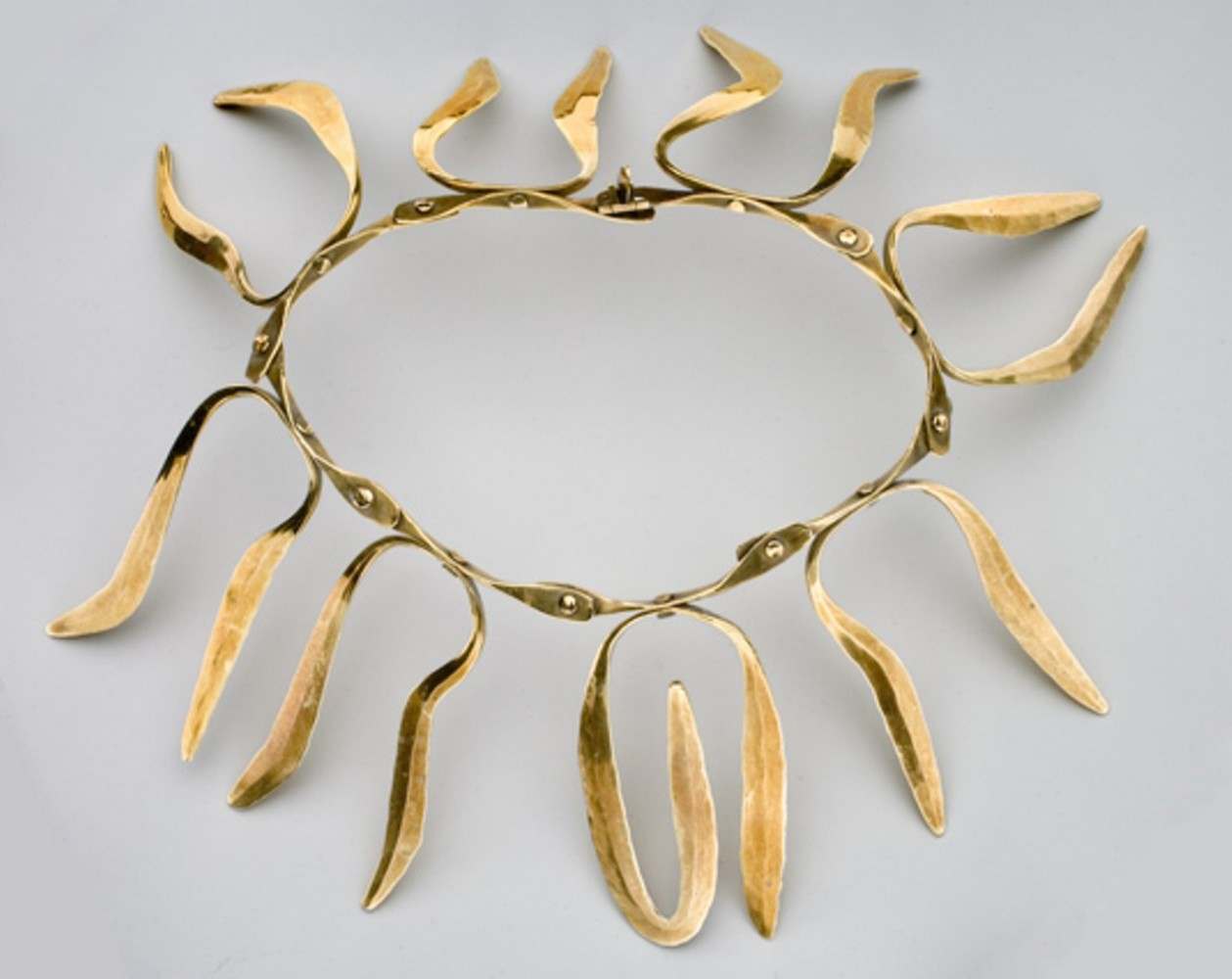 Bent, Cast and Forged: The Jewelry of Harry Bertoia
March 14 – November 29, 2015
Art Members' Opening Reception:  Friday, March 13, 2015
In commemoration of the centennial of the artist's birth, Bent, Cast, and Forged: The Jewelry of Harry Bertoia is the first museum exhibition devoted to Harry Bertoia's designs for jewelry. The former Cranbrook Academy of Art student and metalsmithing instructor has received international acclaim for his metal furniture and sculpture, but his exploration of the medium originated in jewelry design while still a high school student in Detroit. Out of the hundreds of jewelry pieces attributed to Bertoia, the majority was produced during his years at Cranbrook, and this display of over thirty works offers an early glimpse of a creative vision that would crystallize as his career matured.
Additionally, several early monotype prints are featured to illustrate how the artist harnessed the same intuitive and experimental approach to making in his planographic compositions. The objects in this exhibition highlight Bertoia's investigations of form, dimension, and material on a concentrated and bankable scale—establishing him as a pioneer of the American Studio Jewelry movement and a master of elevating fashionable adornment to objet l'art.
Bent, Cast, and Forged: The Jewelry of Harry Bertoia was organized by Cranbrook Art Museum and curated by Shelley Selim, the Art Museum's 2013-2015 Jeanne and Ralph Graham Collections Fellow. The exhibition is sponsored, in part, by Wright Auction House, Kim and Al Eiber, and the David Klein and Kate Ostrove Exhibition Fund. The exhibition will be accompanied by a full-color catalogue published by Cranbrook Art Museum.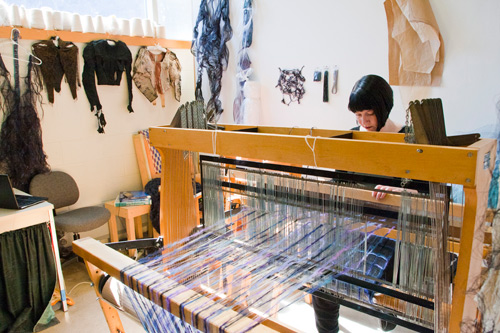 2015 Graduate Degree Exhibition of Cranbrook Academy of Art
April 19 – May 10, 2015
Opening Reception: Saturday, April 18, 2015, 6-8pm
The most innovative art and design being produced in the area takes over the entire 15,000 square feet of Cranbrook Art Museum for our annual Graduate Degree Exhibition of Cranbrook Academy of Art. See the culmination of two years of studio work from 70 of today's most promising artists, architects, and designers.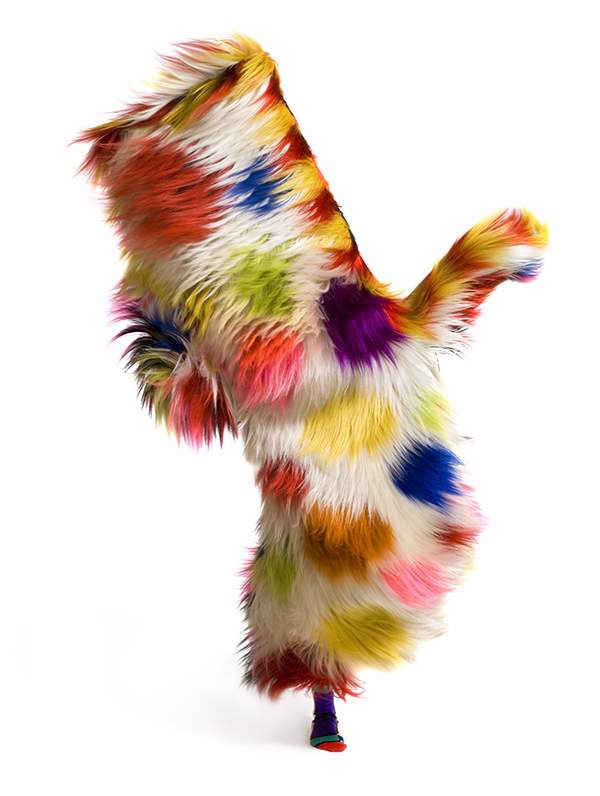 Nick Cave: Here Hear
June 20 – October 11, 2015
Art Members' Opening Reception:  Friday, June 19, 2015
Artist Nick Cave is famed for his embellished costumes titled Soundsuits staged in public spectacle. The artist conceives some as fragile sculptural totems, and others as wearable costumes designed for sound, mobility, and dance.
The vision for the exhibition at Cranbrook Art Museum includes a collection of Soundsuits, new sculptures and newly commissioned artworks arranged in dynamic vignettes throughout the galleries, one of which will feature a site-specific wall-based tapestry inspired by Cave's childhood watching the night sky.  In an additional gallery, a Map in Action room will display the wearable Soundsuits that will come and go for performances during the exhibition period to locations throughout the city. Videos of the performances will be added to the room throughout the duration of the show, thereby becoming a living document of the entire project.
Cranbrook Art Museum received a Knight Arts Challenge Detroit grant, an initiative of the John S. and James L. Knight Foundation, for the project: Nick Cave's Biggest, Baddest Performance of All Time!  The performance series for Nick Cave: Here Hear includes impromptu flash-mob Soundsuit Invasions throughout the city; Dance Labs at the Museum of Contemporary Art Detroit (MOCAD); a new performance work by the artist; Heard Detroit with Detroit student dancers; costuming workshops with children; and the grand finale of it all, Figure This: Detroit, a legend-making performance downtown for an audience of thousands.