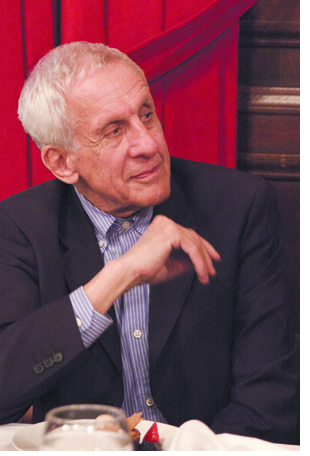 Bloomfield Hills, Mich., March 2, 2015 – Cranbrook Academy of Art is delighted to welcome legendary British architect Kenneth Frampton to campus for a public lecture on Thursday, March 12.
Frampton trained as an architect at the Architectural Association School of Architecture, London. After practicing for a number of years in the United Kingdom and in Israel, he served as the editor of the British magazine Architectural Design. He is currently the Ware Professor of Architecture at the GSAPP, Columbia University, New York.
He is the author of Modern Architecture and the Critical Present (1980), Studies in Tectonic Culture (1995), American Masterworks (1995), Le Corbusier (2001), Labour, Work & Architecture (2005), and an updated fourth edition of Modern Architecture: A Critical History (2007).
Frampton will deliver his lecture "A Genealogy of Modern Architecture" on Thursday, March 12, at 6pm in deSalle Auditorium at Cranbrook Art Museum. His lecture will discuss a new book that looks at a series of buildings analyzed in pairs for the differentiated values which are incorporated in their forms.
Frampton's lecture is sponsored by the J. Robert F. Swanson Lecture Fund.
About the J. Robert F. Swanson Lecture at Cranbrook Academy of Art
The J. Robert F. Swanson Lecture Fund at Cranbrook Academy of Art was established in 1983 by the family of J. Robert F. Swanson, a noted architect who was also the son-in-law of Eliel Saarinen. Each year, the Swanson Lecture brings to the Cranbrook campus architects, designers, artists or scholars who have received critical acclaim for their work and enjoy a sustained record of excellence and achievement in their respective field. J. Robert F. Swanson and his wife and lifelong design partner, Pipsan Saarinen Swanson, founded their firm Swanson Associates in 1947 and worked on many exteriors and interiors, including residences, schools, universities, churches, airports, banks, and government, industrial and commercial projects.
All lectures are free to ArtMembers and students with identification. For the general public, they are included with Museum admission. The Museum galleries will be open prior to each lecture. Parking is available in the Cranbrook Art Museum parking lot and in the parking deck next to the Institute of Science.