Exhibitions opening November 18 include:
Ryan McGinness: Studio Views and Collection Views
Basquiat Before Basquiat: East 12th Street, 1979-1980
Keith Haring: The End of the Line
Maya Stovall: Liquor Store Theatre Performance Films
Bloomfield Hills, Mich., July 25, 2017 — This fall, Cranbrook Art Museum will open a series of exhibitions by artists who all operate at the intersection of art and street culture. The exhibitions include Ryan McGinness: Studio Views and Collection Views; Basquiat Before Basquiat: East 12th Street, 1979-1980; Keith Haring: The End of the Line; and Maya Stovall: Liquor Store Theatre Performance Films.
"Detroit is renowned for its vibrant and innovative street culture, a place where life meets art. If we're lucky and aware, we hear it, we see it, and we feel it. In this spirit, we explore four contemporary artists' unique responses to urban life. Their artistic practices, each in their own fantastic fashion, are personal journeys that move fluidly from the street to the studio and back again," explains Andrew Blauvelt, Director of Cranbrook Art Museum.
The exhibitions will open with a special ArtMembers' Preview on November 17, 2017, from 6-9pm. All exhibitions will open to the public on November 18.
Ryan McGinness: Studio Views and Collection Views
November 18, 2017 – March 18, 2018
Main Gallery
Acclaimed contemporary artist Ryan McGinness will visit Detroit for a series of projects, including two exhibitions at Cranbrook Art Museum. Ryan McGinness: Studio Views will consist of a large-scale installation based on his own studio practice, and Ryan McGinness: Collection Views will present drawings and iconography created from artworks found in the Museum's own collection.
McGinness's creative origins are in the skateboarding and graphic culture scene in the mid-1990s that evolved into an expansive graphic design and studio art career. From early on, he understood the power of iconography and was influenced by the symbols encountered in street signage, corporate logos, and popular culture.
In mindful proximity to the Cranbrook Academy of Art, Ryan McGinness: Studio Views is an exhibition about artistic process and a glimpse into McGinness's studio practice. The Main Gallery at Cranbrook Art Museum will display 35 new paintings that immerse the viewer inside a stylized panorama of the artist's studio. With a shared horizon of the studio floor, each painting depicts a scene of artworks and objects under construction; however, this visualization of process is in fact the final artwork. In the center of the gallery, McGinness will bolt together used silkscreens to create a physical maze for viewers to explore and discover a series of small sculptures.
In an adjacent gallery, McGinness will present Ryan McGinness: Collection Views, a series of new icons inspired by art and design objects that the artist has selected from the Museum's collection.
In August, McGinness will work with Bedrock and the Quicken Loans Community Investment Fund (QLCIF), Tony Hawk and Library Street Collective to produce Wayfinding, an art installation and skate park in the city of Detroit. The park was designed by Tony Hawk and built by George Leichtweis of Modern Skate and Surf. For more information, visit our website.
Throughout all of these projects, McGinness makes legible the individual elements of each subject—whether the artist's studio, the Museum's collection, or the city's signs and symbols—offering the viewer new insights into how the artist approaches the world like a visual puzzle.
Ryan McGinness: Studio Views and Ryan McGinness: Collection Views are organized by Cranbrook Art Museum with assistance from Library Street Collective.
Basquiat Before Basquiat: East 12th Street, 1979-1980
November 18, 2017 – March 11, 2018
South Gallery
Cranbrook Art Museum is the first tour stop of the exhibition Basquiat Before Basquiat: East 12th Street, 1979-1980, organized by the Museum of Contemporary Art Denver.
The exhibition includes the entire cache of works made by Jean-Michel Basquiat during the year he lived with his friend Alexis Adler in a small apartment in the East Village. This archival material provides rare insight into the artistic life of Basquiat before he was recognized as a prominent painter in the early 1980s. While living in this apartment, Basquiat's creative impulses moved fluidly from his SAMO tags on the surrounding streets and neighborhood into a more sustained practice in their shared home. Through paintings, sculpture, works on paper, a notebook, and other ephemera, as well as Adler's numerous photographs from this period, this exhibition explores how the context of life in New York informed and formed Basquiat's artistic practice.
The exhibition and accompanying catalogue present New York City in the late 1970s and early 1980s through the prism of Jean-Michel Basquiat's art and provide a window into the art-rich time that he inhabited and impacted so profoundly. Ultimately, this exhibition will attest to Basquiat's virtuosity in formation—the creative impulses that yielded a distinctive voice, but also the many diversions or paths he explored as he was developing a signature style.
Basquiat Before Basquiat: East 12th Street, 1979-1980 is curated by Nora Burnett Abrams. Presenting sponsors include Henry and Lorie Gordon with a generous gift from Daniel Benel and Lena Fishman.
Keith Haring: The End of the Line
November 18, 2017 – March 11, 2018
South Gallery
Keith Haring: The End of the Line will open at Cranbrook Art Museum 30 years after the artist created his landmark temporary mural at Cranbrook in 1987. He considered that project one of his best, and it marked a new direction in Haring's visual language that continued until his untimely death in 1990 at the age of 32. Documentation of this pivotal project will be presented alongside two bodies of work — Apocalypse (1988) and The Valley (1989) — that were anticipated by the mural and made in collaboration with acclaimed beat poet William S. Burroughs.
Haring became widely celebrated for his comic-like drawings and paintings in the New York subways in the 1980s. At his lecture at Cranbrook on September 25, 1987, Haring discussed his intentions in these early subway explorations: "I started making drawings that were figurative after doing abstract work for almost five years, and for the first time, it seemed like I had made something that made sense to be in public because it had a kind of communicative power. [It] seemed like they should be in places where people could see them and think about them." Haring's subway drawings were ephemeral works that were documented by his friend and fellow artist Tseng Kwong Chi. A selection of these photographs along with a rare, surviving example of one Haring's large-scale subway drawings, still intact on its advertising panel, will be on view.
The End of The Line concentrates on the last years of Haring's life, when his work and activism got intensely personal after being diagnosed with AIDS. The Cranbrook mural introduced stylistic shifts of intentional drips and blotches, but it also depicted characters he continued to explore in Apocalypse and The Valley, such as jesters, masks, skulls, martyrs, and other religious icons. Entrenched in thoughts and philosophies about the end of times, Haring's later works have art historical kinship with the chaotic storytelling of Hieronymus Bosch and violent playfulness of his friend and contemporary Jean-Michael Basquiat. The ominous texts by Burroughs stationed alongside them complement the energy of Haring's drawings, which have the frenzy of an artist trying to process life before its end.
Keith Haring: The End of the Line is organized by Cranbrook Art Museum with the assistance of the Keith Haring Foundation, whose mission is to sustain, expand, and protect the artist's legacy, art, and ideals. The Foundation supports not-for-profit organizations that assist children, as well as organizations involved in education, research, and care related to AIDS. Additional assistance is provided by Muna Tseng and the Estate of Tseng Kwong Chi.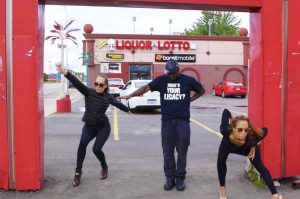 Maya Stovall: Liquor Store Theatre Performance Films
November 18, 2017 – March 11, 2018
Hartmann Gallery
Cranbrook Art Museum presents Liquor Store Theatre Performance Films by Detroit-based artist Maya Stovall, an innovator who works across the disciplines of dance, theory, anthropology, ethnography, and contemporary art. The museum will feature films from this series of site-specific dance interventions that began in 2014, as well as premiere a new film created in summer 2017 for the exhibition.
In Liquor Store Theatre, Stovall situates her stage in the public parking lots, sidewalks, and streets in front of liquor stores in her McDougall-Hunt neighborhood in Detroit. In an area with few operating storefronts, the liquor stores have become the de-facto centers of commerce, including groceries and electronics, and a place for residents to socialize. The unannounced performances include herself and several dancers who perform a meditative style of ballet and jazz with the occasional bystander joining in the movement. Beyond the dancers' bodies, the performance ruptures the stilted choreography of daily life for the people in the neighborhood—a moment of curiosity and spectacle just for them. After each performance, Stovall engages her audience in conversation and documents their personal experiences, musings, and predictions about Detroit's socioeconomic condition and future. Dance is not the objective, but instead a conduit for communication and reflection.
Like early interventionist graffiti by Basquiat and Haring before her, Stovall works against the surface of the street and her movements are a form of ephemeral markmaking. Public space is reimagined by these artists as canvas, stage, and site for collaboration with everyday life. Maya Stovall is a fourth generation Detroiter and currently a Ph.D.candidate in Cultural Anthropology and Performance Studies at Wayne State University. Works from the series were recently presented as part of the 2017 Whitney Biennial.
Media Contact:
Julie Fracker
Director of Communications
Cranbrook Academy of Art and Art Museum
248.645.3329
jfracker@cranbrook.edu
Hours and Pricing
Museum Hours:
Tuesday – Sunday, 11am – 5pm
Check website for holiday closures
Admission:
ArtMembers and Children 12 & under, Always Free
General: $10
Seniors (65+): $8
Students with ID: $6
Accessibility:
Barrier free access to the galleries of Cranbrook Art Museum can be accommodated through the adjacent New Studios Building. Visitors with disabilities are encouraged to call the Front Desk of the Art Museum at 248-645-3320 during regular museum hours for assistance. If you are planning your visit in advance, you may also call the Art Museum Administrative Offices at 248-645-3319 (Monday through Friday, 9am-5pm) for additional information.
About Cranbrook Art Museum
Cranbrook Art Museum is located at 39221 Woodward Avenue, on the campus of Cranbrook Educational Community in Bloomfield Hills. It is an integral part of Cranbrook Academy of Art, a community of Artists-in-Residence and graduate-level students of art, design, and architecture. The Art Museum, which was established in 1930 and opened in its current building in 1942, is Eliel Saarinen's final masterwork at Cranbrook. Today, the Art Museum presents original exhibitions and educational programming on modern and contemporary architecture, art, crafts, and design, as well as traveling exhibitions, films, workshops, travel tours, and lectures by renowned artists, designers, artists, and critics throughout the year. In 2011, the Art Museum completed a three-year $22 million construction project that includes both the restoration of the Saarinen-design building and a state-of-the-art Collections Wing addition. Cranbrook Archives and the offices of the new Cranbrook Center for Collections and Research also are located within the Art Museum.