Exhibitions Run from June 16 through October 7, 2018
Opening Celebration: June 15, 2018
Bloomfield Hills, Mich., March 5, 2018—This summer, Cranbrook Art Museum will organize the largest exhibition of its kind exploring the unique visual language of the punk and post-punk movements from the mid-1970s to the mid-1980s. Too Fast to Live, Too Young to Die: Punk Graphics, 1976-1986 will feature hundreds of graphics—including many rare flyers, posters, albums, promotions, and zines.
"Since its rebellious inception in the 1970s, punk has always exhibited very visual forms of expression," says Director of Cranbrook Art Museum Andrew Blauvelt, who is curating the exhibition. "From the dress and hairstyles of its devotees and the on-stage theatrics of its musicians to the graphic design of its numerous forms of printed matter. As such, punk's energy coalesced into a powerful subcultural phenomena that transcended music to affect other fields such as visual art and design."
In conjunction with Too Fast to Live, Too Young to Die, the Museum will debut the original exhibition Shepard Fairey: Salad Days, 1989-1999, which considers Fairey's first 10 years of artistic practice and its roots in the graphic language and philosophies of the punk scene. Punk's ethos played a decisive role in the artist's early work. "When I discovered punk rock, and realized that music could have an attitude in its style but a specific point of view in its lyrics," states Fairey, "I became even more interested in how it works as a way of shaping attitudes and culture."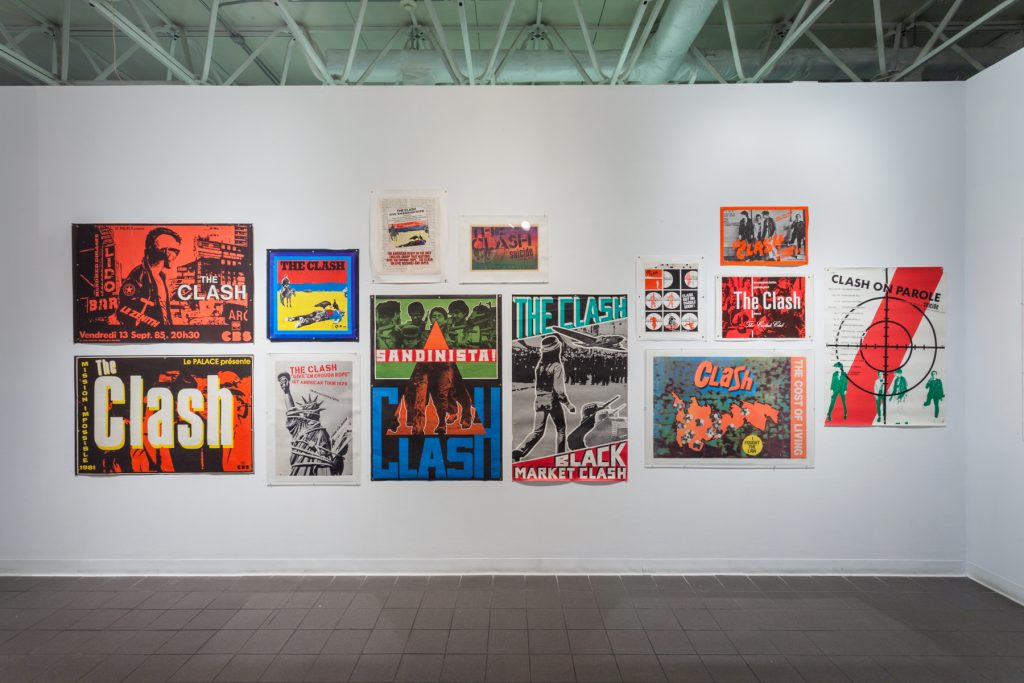 Various posters for The Clash, c. 1977–1985, Collection of Andrew Krivine. Photo courtesy the Galleries at Moore, Philadelphia.
Photo by Joseph Hu.
Too Fast to Live, Too Young to Die: Punk Graphics, 1976-1986
June 16 – October 7, 2018
Main, North and Larson Galleries

Too Fast to Live: Too Young to Die: Punk Graphics, 1976-1986 will be arranged thematically and explores a variety of visual design strategies like parody and pastiche and techniques such as appropriation and collage. It will also examine the influence of genres such as science fiction, horror, and comics on punk and post-punk graphics. It will move from the sobriety of a stripped-down, black-and-white minimalism to the expansive color palettes and expressive forms of new wave graphics.
The exhibition will look at the punk movement through the lens of graphic design and be punctuated with moments of fashion, contemporary art, video, and a participatory "concert hall," where visitors can DJ their own vinyl playlist.
Although punk first exploded on the scene more than 40 years ago, its impact is still being felt today. "Not only did punk reinvigorate the music scene by unleashing a thousand garage bands, it telegraphed a new more democratic, open-access approach to making culture in general. Today, things like graphic novels, alternative music stations, and street fashion all owe a debt of gratitude to punk," relates Blauvelt. "Punk disrupted the music and design industries of its day by injecting a healthy dose of DIY energy and by rejecting social conformity and cultural banality. With punk, it was no longer business as usual."
The exhibition, drawn from the collection of Andrew Krivine, features more than 500 pieces, including rare and iconic works that cover a spectrum of punk and post-punk bands, including: the Sex Pistols, The Clash, Dead Kennedys, Tom Robinson Band, Black Flag, Ramones, The Cramps, Killing Joke, Adam and the Ants, The Slits, Joy Division, New Order, Devo, PiL, Kraftwerk, The Smiths, Buzzcocks, Television, Iggy Pop, Patti Smith Group, Siouxsie and The Banshees, Blondie, Talking Heads, Elvis Costello, B-52s, X-Ray Spex, and many, many others.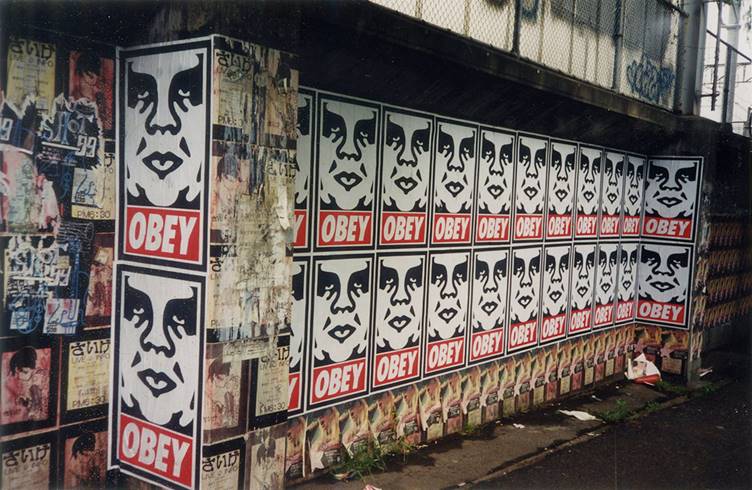 Shepard Fairey, Pasteup, Unknown, 1999.
Shepard Fairey: Salad Days, 1989-1999
June 16 – October 7, 2018
Wainger Gallery

Influential street artist Shepard Fairey has been a consistent presence in national and international art scenes since the 1990s. The LA-based artist is perhaps best known locally through his downtown Detroit mural at One Campus Martius, his ubiquitous Hope image created originally as a grassroots activism tool to support Barack Obama's 2008 presidential campaign, and the pervasive We the People poster series for the 2017 Women's March and beyond.
From 1989 to 1999, the artist adopted many of punk's biting and playful graphic strategies, as well as its low-tech methods of production and distribution. Fairey created his first Andre the Giant has a Posse sticker in a spontaneous DIY manner, appropriating an image of professional wrestler André René Roussimoff (aka André the Giant) from a newspaper. The image would gain iconic status when it spread via friends and fans to city streets across the United States and eventually around the world. The Andre the Giant campaign and image would transform in the mid-1990s into the Obey Giant series, which was inspired by John Carpenter's sci-fi horror film, They Live (1988) and its plot about subliminal messages implanted in a society in order to control its inhabitants. Taking inspiration from early Russian Constructivist poster designs in particular and from revolutionary propaganda posters in general, Obey Giant prints were posted unsolicited on billboards, buildings, and other parts of the city.
"In Fairey's earliest works we can see the inheritance of the punk ethos: the satirical impulse, the guerilla-style poster sniping, the oblique references to pop culture, and the very public stage of the street as a place for unapologetic individual expression," states Blauvelt, Director of the Cranbrook Art Museum. He continues, "Shepard Fairey is a perfect bridge to connect the history of punk graphics that we are also exhibiting at the same time to his seminal work from the 1990s."
Shepard Fairey: Salad Days, 1989-1999 showcases the artist's formative years through a variety of posters, stickers, and archival documents showing his engagement with punk. It will also feature a new installation in Cranbrook Art Museum's galleries created by the artist.
Both exhibitions are organized by Cranbrook Art Museum and curated by Andrew Blauvelt, Director, and Steffi Duarte, Jeanne and Ralph Graham Collections Fellow. Special thanks to Andrew Krivine for his assistance with Too Fast to Live, Too Young to Die: Punk Graphics, 1976-1986 and to Library Street Collective with Shepard Fairey: Salad Days, 1989-1999. Cranbrook Art Museum programs are made possible with generous support from the Maxine and Stuart Frankel Foundation, members of the Art Museum Committee, and ArtMembers at Cranbrook.
Opening Weekend Events
June 15 + 16, 2018
Cranbrook Art Museum will host a weekend of celebrations surrounding the opening of both exhibitions. For exclusive access and advance ticket information, become a member today!
Preview Party: Friday, June 15, 2018 from 6-9pm.
6-7pm: VIP reception exclusively for ArtMembers. Memberships may be purchased on our website.
7-9pm: Open to the general public. Tickets are $30 at the door, or may be purchased in advance on our website.
DJs will be on hand for the celebration, as well as a very special guest! Cash bar. Live music. Complimentary appetizers.