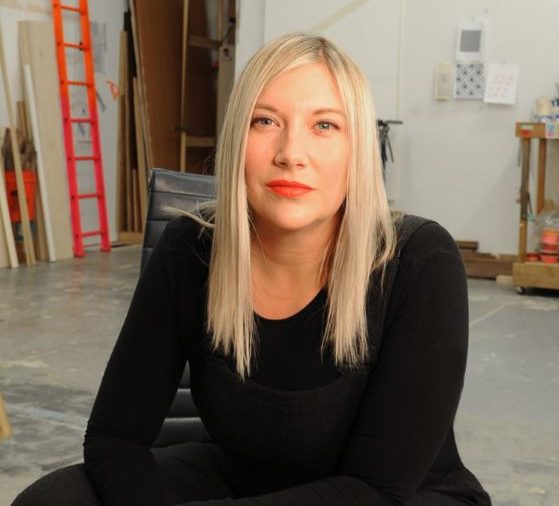 BLOOMFIELD HILLS, MICH., April 28, 2022 – Cranbrook Art Museum has announced that Laura Mott has been promoted to the position of Chief Curator of Cranbrook Art Museum. She previously held the position of Senior Curator of Contemporary Art and Design at the museum.
An accomplished curator and lecturer, Mott joined Cranbrook in 2013 and has curated and co-curated more than 20 projects for the museum, including Landlord Colors: On Art, Economy, and Materiality, an exhibition and publication for which she was named a Warhol Curatorial Fellow, Nick Cave: Here Hear, Maya Stovall: Liquor Store Theater, Allie McGhee: Banana Moon Horn, Olga de Amaral: To Weave a Rock, and upcoming exhibitions with artists Tyrrell Winston and Sonya Clark. This June, the museum will premiere Tunde Olaniran: Made a Universe, a multi-year project led by Mott that includes a short film, large installation and performance by the Flint-based musician and performer.
"Laura Mott has been integral partner in Cranbrook Art Museum's expansion of its programming in recent years, including ambitious site-specific projects in Detroit and developing new scholarship through exhibitions and publications," says Andrew Blauvelt, Director of Cranbrook Art Museum. "We are thrilled to have her lead the curatorial vision for our next chapter as a museum as we continue to diversify our collections and expand the reach of our programming both locally and nationally."
A selection of Mott's curatorial work in Detroit includes The Truth Booth project with The Cause Collective, a Nick Cave performance series including Heard: Detroit, Scott Hocking's Bone Black installation, a performance for Michelangelo Pistoletto's Third Paradise series, and ongoing partnerships with organizations such as the Detroit Riverfront Conservancy and Sidewalk Detroit. Most recently, she curated the public installation The Healing Memorial, a participatory installation with artist Sonya Clark co-organized by The City of Detroit and the Detroit Riverfront Conservancy that is currently on view at the Huntington Center in Detroit.
In her new position, Mott will take on an expanded role in guiding collections, mentoring curators, and developing and managing exhibitions.
Prior to joining Cranbrook Art Museum, Mott had an active career as a curator and lecturer in both the United States and Europe. She worked in various curatorial positions at the University of Gothenburg in Sweden, Gothenburg Konsthall; IASPIS in Stockholm; Mission 17 in San Francisco; and The Whitney Museum of American Art in New York. Mott is a graduate of the Center for Curatorial Studies, Bard College, New York with an MA in Curatorial Studies, and the University of Texas at Austin with a BFA/BA in Art History and Studio Art.
Media Contact: Julie Fracker
Director of Communications
Cranbrook Academy of Art and Cranbrook Art Museum
248.645.3329
About Cranbrook Art Museum Cranbrook Art Museum is located at 39221 Woodward Avenue, on the 319-acre historic landmark campus of Cranbrook Educational Community in Bloomfield Hills, Michigan. The Art Museum opened in 1930 and is one of the earliest institutions in the United States dedicated to the presentation of contemporary art. It originates and presents exhibitions and public programs and collects objects in the areas of modern and contemporary architecture, art, crafts, and design. For more information, visit cranbrookartmuseum.org.