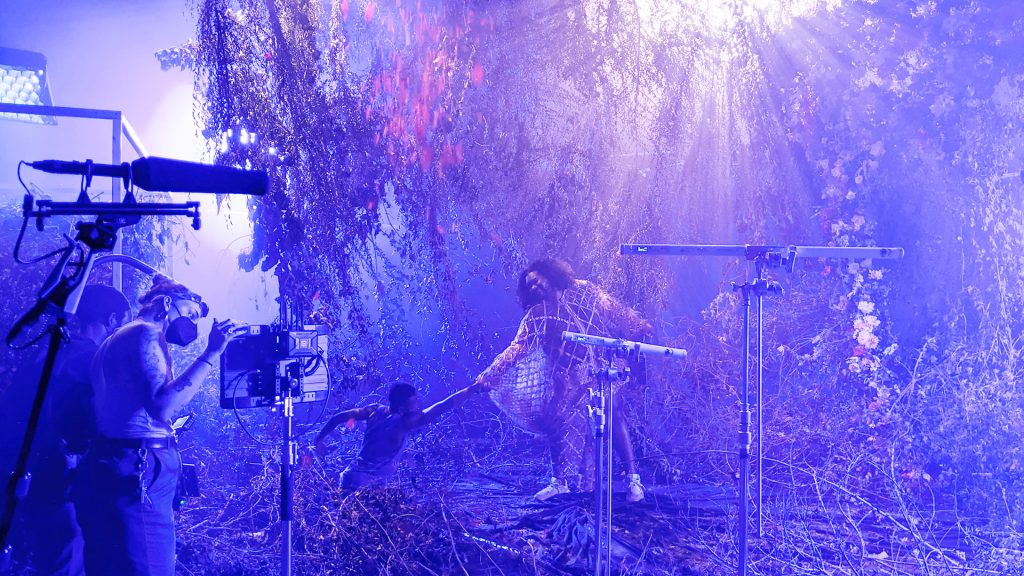 Tunde Olaniran: Made a Universe Film and Exhibition Open June 18, 2022
Bloomfield Hills, Mich., April 14, 2022 — This summer Cranbrook Art Museum will present Tunde Olaniran: Made a Universe, the first film commissioned by the museum and its first project to traverse the spaces of the recording studio, the silver screen, and the gallery. The accompanying exhibition will run from June 18 through September 25, 2022.
Tunde Olaniran (they/them) is a musician, singer, and performer based in Flint, Michigan. Starting in 2019, Cranbrook Art Museum partnered with the artist to help create the short film Made a Universe, which completed production in 2021 and will premiere as part of the exhibition at Cranbrook Art Museum.
Shot on location in Detroit and Harbor Beach, Michigan, with an entirely local cast and crew, the multimedia production explores themes of agency, liminality, human connection, and psychic and emotional power. It was directed and scored by Olaniran and features collaborations across artistic mediums with several multidisciplinary, award-winning artists, including Yo-Yo Ma.
With the narrative arc of a hero's journey, Made a Universe is a contemporary horror film that takes its inspiration from archetypes like those found in the New Mutants, a spin-off of the X-Men comic series. Within this premise, the character's often perceived weakness translates into their unique superpower. The film examines what it means to unlock your power in the face of fear and repression, unifying various fragments of your psyche to connect with the world and yourself on a deeper level.
"Tunde is a creative force of nature. They address complicated themes deeply rooted in our humanity through an otherworldly talent," said Laura Mott, Chief Curator, Cranbrook Art Museum. "Their stage performances include music, choreography, and handmade costumes, and we have metaphorically turned up the volume to full blast with this multi-faceted project. It has been thrilling to collaborate on a film from scratch and to adapt an exhibition format to meet Tunde's vision."
The exhibition offers a screening room that will show the film, and the galleries will feature handcrafted set pieces from the film re-imagined into an experiential art installation, offering visitors an immersive, parallel journey through Olaniran's creative universe.
"As contemporary artists increasingly blur and blend artistic genres such as music, film, performance, and installation, museums such as Cranbrook are called upon to help meet those challenges." said Andrew Blauvelt, Director of Cranbrook Art Museum. "Olaniran 's expansive creative vision exemplifies this contemporary impulse."
All sets were created by or in collaboration with Detroit and Flint-based visual artists and designers, including Vanessa Cronan, Katy Dresner, Ellen Rutt, Amy Fisher-Price, Natasha Beste, Skyylar Taylor, Matthew Osmon, Rachelle Baker, and Lisa Waud. The film's score contains original musical works from Tunde Olaniran and Yo-Yo Ma. Movement and dance-based work in the film itself was choreographed by Emma Davis and Olaniran.
"This is the most ambitious and thrilling work I've ever done, and being able to include so many of my peers in Detroit and Flint was important," said Olaniran. "Writing and directing this film helped me to unify various experiences of loss, fear, wonder, desperation and isolation growing up Black, queer and poor in a place like Flint, Michigan. Within this immersion in sometimes-painful memories, there also formed a space for reflection on what forces could fuel and sustain my survival. Rather than becoming trapped in an endless loop of reliving this trauma, I'm trying to retell it in a framework that removes me from the imagination of my oppressors. There also emerged a recognition of the inescapable network of mutuality within Black ancestral and contemporary lineages, and the realization that, in the face of oppression, we still have the capacity and power to invent our lives.
"Cranbrook and its Chief Curator Laura Mott really saw the potential in the seed of an idea I had in 2019, which was to explore more visual media. Their and her commitment to helping me grow my artistic practice beyond what I previously thought was possible is beyond what I've experienced in any other partnership."
Olaniran is an artist whose work spans the worlds of music, dance, film, literature and performance art, exploring themes of Blackness, gender expression, class, agency, and psychic/emotional power. They have released two studio albums, Transgressor (2015) and Stranger (2018). They plan to release their third studio album in 2022. Their work for PBS' "Backstage Pass" won a 2021 Regional Emmy award. They were named a 2018 Art Matters Fellow and a 2019 United States Artists Music Fellow. This is their first museum exhibition.
Tunde Olaniran: Made a Universe joins the exhibitions, Tyrrell Winston: A Tiger's Stripes and Whatever Gets You Through the Night: Selections from the Mott-Warsh Collection, also opening on June 18.
Tunde Olaniran: Made A Universe is organized by Cranbrook Art Museum and curated by Laura Mott, Chief Curator. The film is produced and co-writ by Paige Wood. The project is generously supported by The John S. and James L. Knight Foundation, the National Endowment of the Arts, Jennifer and Dan Gilbert, Don Manvel, and additional support by Library Street Collective.
Tunde Olaniran: Made A Universe is presented by Flagstar Bank.
For media inquiries, please contact:
Kate Morais, Sutton Communications kate@suttoncomms.com +1 212 202 3402