Tyrrell Winston: A Tiger's Stripes Opens June 18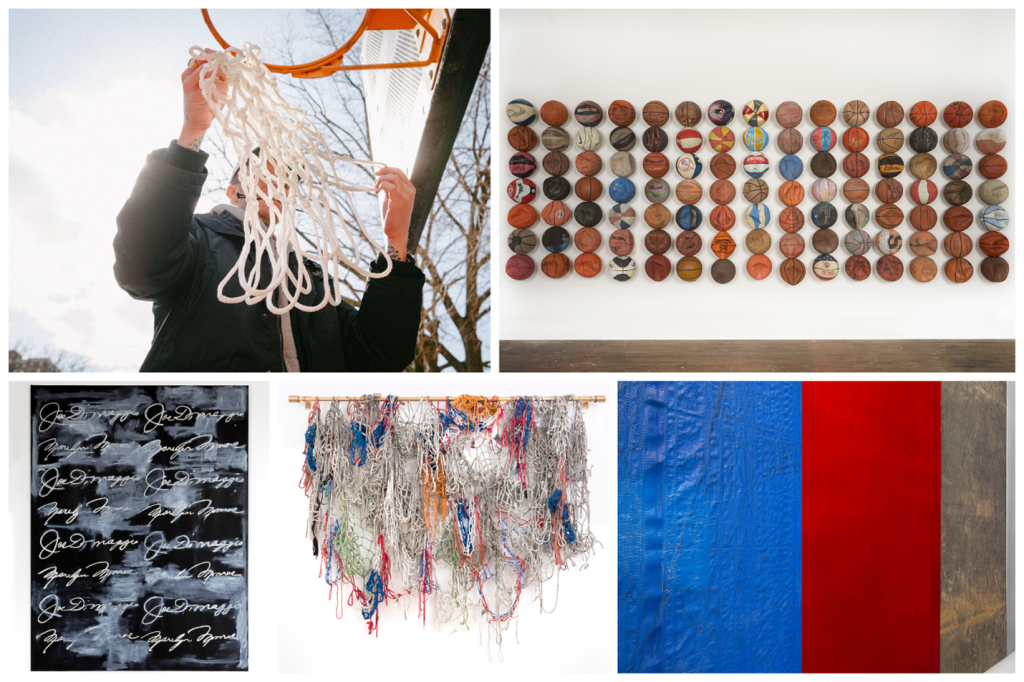 Bloomfield Hills, Mich., June 7, 2022 — Cranbrook Art Museum is pleased to announce Tyrrell Winston: A Tiger's Stripes, the first solo museum presentation for the artist. The exhibition will run from June 18 through September 25, 2022.
Winston is a Detroit-based artist who moved to the city from New York in early 2022. Winston's work is rooted in themes of memory, nostalgia, and sports culture. The title of the exhibition is an homage to Detroit's baseball team and references how each "tiger" has its own unique pattern of stripes, much like the trademarks of a sports team.
"Tyrrell's interest in sports culture is, in part, because it is a collective act that society undertakes together," said Laura Mott, Chief Curator of Cranbrook Art Museum. "He has an incredible ability to connect notions of 'the collective' to us as individuals, asking us to question our own devotions and value systems. The work is playful in how it traverses ideas of authenticity and high/low culture, but there is an underlining sincerity and reverence at its core, as demonstrated through his durational process of hands-on explorations of the city and respect for the history of objects."
Known widely for his gridded assemblages of found basketballs, a core element of Winston's practice is the use of found objects – discarded, broken, and worn – that he finds on the street during explorations of a city. As part of his ongoing practice with basketball nets, Winston spent months exploring the courts of Detroit, replacing old, weathered basketball nets with new nets, a simple gesture guided by Winston's mantra of, "if you see something broken, fix it."
Winston will use the nets to create a new work titled, Everything I've Ever Let Go of Has Claw Marks on It, a quote by David Foster Wallace, as these nets have literally been clawed down and hung onto by Detroit residents, carrying with them an embedded history seen in the marks left by time and repetitive use. This work will be accompanied by the textile, Rainbow Falls, a cascading net woven together to inspire the same sense of awe Winston experienced as a child when visiting a waterfall of the same name. According to Winston, the works are "vessels that not only embody human touch, but also nature and its effect on these objects."
Tyrrell Winston: A Tiger's Stripes will also feature the artist's signature Protection Paintings and Punishment Paintings. The Protection Paintings continue Winston's practice of incorporating found objects into his work through the collection of discarded and stained car tarps. The tarps are initially used in automotive culture to protect and preserve the value of a new car's finish, yet through their use, they become ripped, tattered, and weathered. Winston stretches the discarded tarps as canvases and celebrates the mark-making produced by time and weather while contrasting them with panels of pristine automotive paint. For the exhibition at Cranbrook Art Museum, Winston selected color combinations based on Michigan sports teams.
Winston's Punishment Paintings are large-scale paintings that repeat a famous athlete's signature. It is a reference to the act of writing a phrase on a chalkboard over and over as a form of punishment. He frames the notion of punishment embedded in sports in two ways: the intense repetition of the training process and the level of personal scrutiny and criticism that comes with fame if one is successful. His appropriation of the player's autograph speaks to the abstraction of the person through the lens of status, endorsements, celebrity, and ultimately, time, as athletes are replaced as new stars emerge. For this exhibition, Winston has focused on athletes that played for Michigan teams, using the signatures of Ty Cobb, Joe Louis, Magic Johnson, Barry Sanders, Dennis Rodman, Steve Yzerman, Al Kaline and Mark Fidrych.
Centered in the exhibition are two new works using bleachers, which will serve as a forum for "Bleacher Talks," intimate spaces of dialogue and creative exchange using objects typically used to root for opposing teams. Winston will also debut the new sculptural work, The Kiss, which features two bleachers borrowed from the Cranbrook Schools campus that Winston has nicknamed Romeo and Juliet. Typically staged on opposing sides of the field, Winston brings them together to bridge a conversation. Throughout the run of the exhibition, a series of talks will be held on and off the bleachers, all led by the artist.
The dates of the Bleacher Talks include:
Bleacher Talk: Tyrrell Winston and Laura Mott: July 7, 6pm
Bleacher Talk: Tyrrell Winston and Jammie Holmes: July 21, 6pm
Artist Tour: Tyrrell Winston: August 13, 3pm
Conversation: Tyrrell Winston and Che Pope: September 24, 6pm
Tyrrell Winston: A Tiger's Stripes is organized by Cranbrook Art Museum and curated by Laura Mott, Chief Curator. The project is supported by a residency facilitated by Library Street Collective.
This exhibition joins two other exhibitions, Tunde Olaniran: Made a Universe, and Whatever Gets You Through the Night: Selections from the Mott-Warsh Collection, which all open at Cranbrook Art Museum on June 18 and run through September 25, 2022.
About Tyrrell Winston
California-born, Detroit-based artist Tyrrell Winston's artwork is a result of years of collecting, organizing, and reconfiguring discarded objects. Winston has obsessively collected found objects from the streets of cities, as a public service, examination of, and fascination with the permanent energy left behind within the objects. Winston's work also revolves around drawing parallels in the absurdity between the symbol­ism of contrasting objects. The intentional mixture of these elements examine hope and hopelessness, resurrection and regeneration, vitality and recklessness.
Winston is well known for his basketball wall sculptures that explore the concept of embedded history and how an object's past can become abstracted. All of the basketballs in this series are found objects which Tyrrell manipulates into sculptural shapes as he links them together into a set of predetermined compositions. In an age where connections are intangible and we've lost sight of material consequence, Winston's assem­blages are a reminder that the things we neglect don't disap­pear simply because we've moved on. His works nudge us to remember the persistent energy that remains within seem­ingly insignificant records of human existence.
About Cranbrook Art Museum
Cranbrook Art Museum is located at 39221 Woodward Avenue, on the 319-acre historic landmark campus of Cranbrook Educational Community in Bloomfield Hills, Michigan. The Art Museum opened in 1930 and is one of the earliest institutions in the United States dedicated to the presentation of contemporary art. It originates and presents exhibitions and public programs and collects objects in the areas of modern and contemporary architecture, art, crafts, and design. For more information, visit cranbrookartmuseum.org.