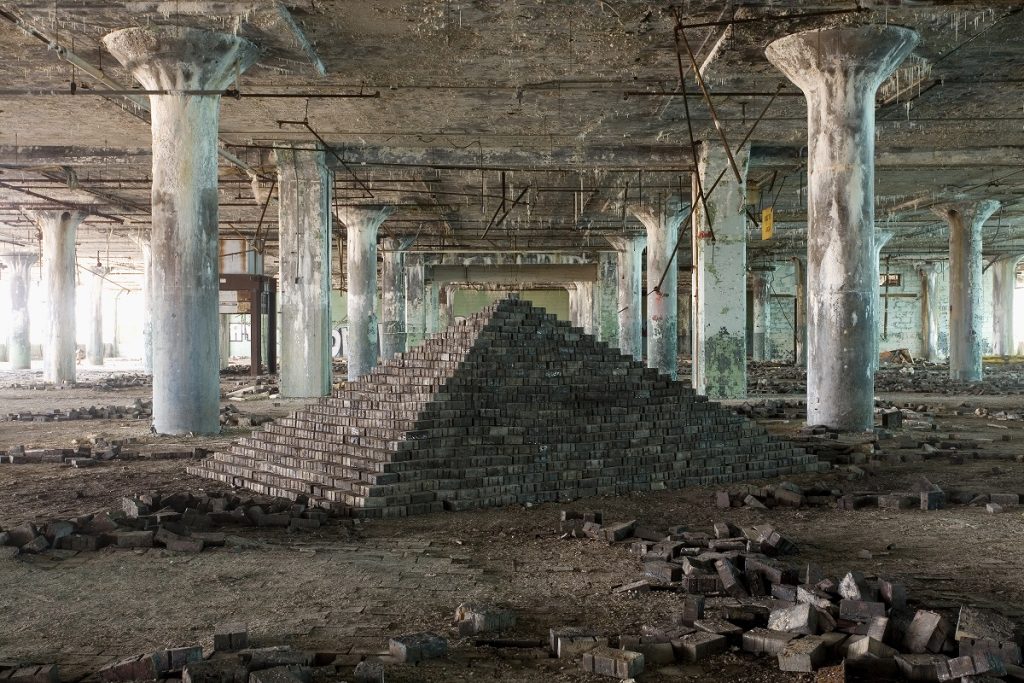 Scott Hocking: Detroit Stories Opens November 5, 2022
Bloomfield Hills, Mich., Oct. 17, 2022 — This fall, Cranbrook Art Museum will host the first museum retrospective of the Detroit-based artist Scott Hocking, whose long career of work spans sculpture and installation, and photography and video.
Hocking has been living and working in Detroit for more than 25 years and is known for repurposing existing materials and found objects, which he uses in site-specific projects that delve into local histories and conditions of place.
In the 2000s, Hocking gained international attention for his series of works in Detroit, where he assembled large-scale sculptures from the surrounding debris such as a giant egg-shaped sculpture made from stacking hundreds of pieces of slab marble found at Michigan Central Station (The Egg and Michigan Central Train Station, 2007–2013), or a giant ziggurat structure composed of thousands of wooden floor blocks at the Fisher Body Plant 21 (Ziggurat and Fisher Body, 2007–2009).
These projects are produced through the artist's lone labor over the course of many months and years. Because of their locations and ephemeral existence, these powerful works are mostly known through the photographs that Hocking takes to document the final results.
Hocking has also been photographing the cityscape of Detroit since the 1990s, capturing the unique qualities of various neighborhoods and industrial sites, bearing witness to the cycles of urban change effecting the city over decades. "Hocking has become one of Detroit's most important contemporary voices and chroniclers of the city's idiosyncratic history," says Andrew Satake Blauvelt, Director of Cranbrook Art Museum. "His unique artistic process combines aspects of urban archeology with a historian's sense of discovery and a writer's craft of storytelling."
The exhibition at Cranbrook will focus on Hocking's studio practice, including major bodies of work, such as site-specific installations, large-scale sculptures, found object assemblages, photographic series and video recordings of his journeys. Also known for his writings, the exhibition will be punctuated with select artist stories—tales of (mis)adventure, episodes from history, reflections of a changing city, ruminations on art and life, and more—where visitors will be able to read along and take their own journey through the exhibition. "We are thrilled that Cranbrook Art Museum will be the first museum to host a retrospective of Hocking's work."
Cranbrook Art Museum is also publishing a 344-page book entitled Scott Hocking: Detroit Stories, which comprehensively documents the artist's major projects over the past 25 years, including those featured in the exhibition and beyond. Contributions to the book include an essay by Blauvelt on Hocking's work in relationship to notions of time; an interview with the artist at the location of his major installations by Laura Mott, Chief Curator, Cranbrook Art Museum; and a holistic contextualization of the artist's work in Detroit by scholar Michael Stone-Richards. The artist's voice is woven throughout the catalogue through the inclusion of project statements as well as writings by the artist.
Hocking's work has been exhibited internationally, including locations such as the Van Abbemuseum, Eindhoven, the Netherlands; the Kunst-Werke Institute for Contemporary Art, Berlin, Germany; Kunsthalle Wien, Vienna, Austria; and the Lille 3000: Renaissance Triennale, France. In the United States, Hocking has shown at numerous venues, including: the ASU Art Museum, Tempe, Arizona; the Crystal Bridges Museum of American Art, Bentonville, Arkansas; the Museum of Contemporary Art Chicago; the Smart Museum of Art, Chicago; the School of the Art Institute Chicago; Contemporary Art Museum St. Louis; the Pennsylvania Academy of Fine Arts Museum; The Mattress Factory Art Museum; the Detroit Institute of Arts; Cranbrook Art Museum; the Museum of Contemporary Art Detroit; the Eli and Edythe Broad Museum at MSU; and the University of Michigan Institute for the Humanities. Two prominent public art commissions from Hocking have recently debuted in Detroit: Floating Citadel (2022) on the plaza at Huntington Place and Nike of the Strait (2021) along the Detroit Riverwalk at the Robert C. Valade Park.
Hocking is the recipient of numerous honors and awards, including a 2022 Joan Mitchell Foundation Fellowship; a Kresge Artist Fellowship, a Knight Foundation Arts Challenge Grant, and an Efroymson Contemporary Arts Fellowship, as well as residential grants in France, Iceland, Australia, Canada, Brazil, and throughout the United States.
The artist is represented by David Klein Gallery, Detroit.
Scott Hocking: Detroit Stories is organized by Cranbrook Art Museum and is curated by Andrew Satake Blauvelt, Director.
The exhibition is generously supported by Gilbert Family Foundation, the George Francoeur Art Museum Exhibition Fund, the David Klein and Kate Ostrove Exhibition Fund, and Samara (Johnson) Furlong and Mark Furlong. Promotional assistance provided by David Klein Gallery.
Scott Hocking: Detroit Stories is one of three new exhibitions opening at Cranbrook Art Museum on November 5, 2022. The other exhibitions include:
James Benjamin Franklin: Full Circle
James Benjamin Franklin is based in Detroit. His distinctive canvases push the boundaries between painting and sculpture. Turning the canvas into a thick-lipped, albeit vertically oriented, "tray" allows Franklin to hold materials in a mix of painterly and sculptural practices. The organic shapes he gives the canvases, the free and loose application of paint, combined with their rich and colorful textural surfaces imbue the works with an inventive materiality and a contemporary handcrafted sensibility.
For his first solo museum exhibition in Detroit, Franklin returns to the Cranbrook campus, where he graduated with an MFA in Painting from Cranbrook Academy of Art in 2015. The exhibition is an entirely new body of work that further develops his innovative processes.
Bakpak Durden: The Eye of Horus
Bakpak Durden is a self-taught artist born and raised in Detroit. Durden's hyperrealistic work draws upon diverse inspirations, including dramatic cinema and Dutch Baroque painting. The Eye of Horus is Durden's first solo museum exhibition and the inaugural show of the Cranbrook Art Museum's Fresh Paint series, which highlights new work from Detroit-based artists.
For this exhibition, Durden explores the physiological and psychological functions relating to vision and the mind. Their new installation of paintings and sculpture poetically dissect the physical processes of vision, therein presenting the anatomical magic that goes into shaping emotion and identity. Surrounding the installation are selections of Durden's paintings that primarily feature the artist in moments of reverie and introspection in their daily life.