Exhibition Dates: June 17, 2023–September 24, 2023 ArtMember Preview: June 16, 2023
Travels to High Museum of Art in Atlanta and Museum of Arts and Design in New York City in late 2023–2024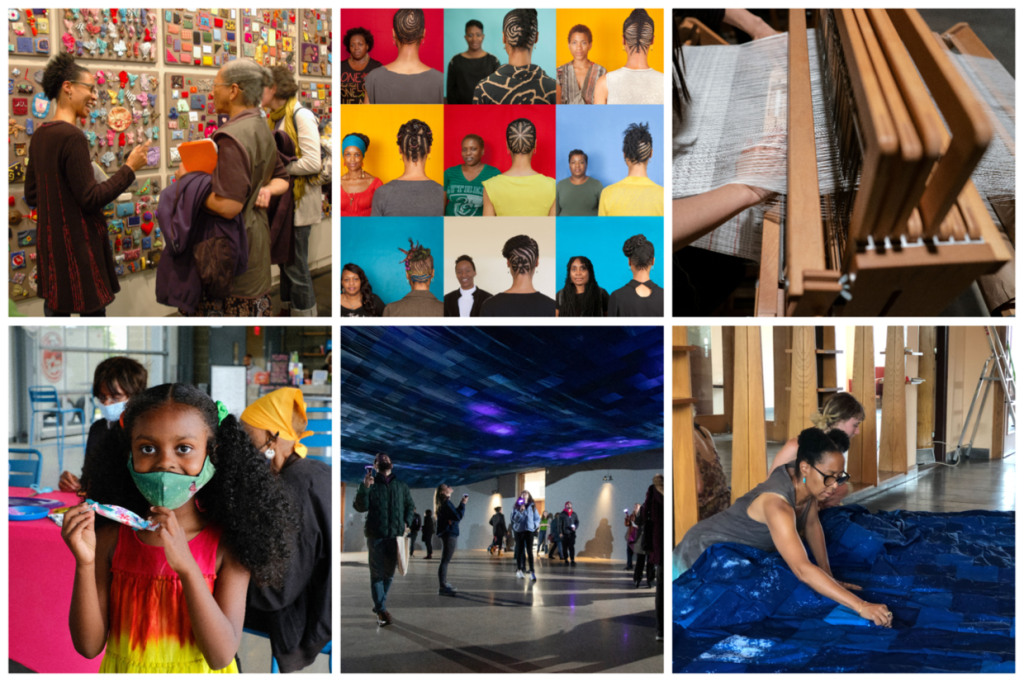 Bloomfield Hills, Mich., Feb. 15, 2023 – This summer, Cranbrook Art Museum will debut the new exhibition Sonya Clark: We Are Each Other, a mid-career survey of the pioneering fiber artist that will bring together her large-scale community-centered and participatory projects for the first time. It opens at Cranbrook Art Museum on June 17, 2023, and will run through September 24, 2023.
The exhibition is a three-institution partnership between Cranbrook Art Museum in metro Detroit, the High Museum of Art in Atlanta, and the Museum of Arts and Design in New York City. Sonya Clark's work addresses race and Black experience, and the collaboration is rooted in both audience and context as all three cities have substantial populations of residents with a lineage to the African diaspora, and each institution has a dedicated mission to contemporary art and craft traditions. It will travel to the High Museum of Art (October 27, 2023– February 18, 2024) and the Museum of Arts and Design (March 23, 2024–Sept. 22, 2024) after it leaves Cranbrook.
About the exhibition, Sonya Clark says, "I am a collaboration, as is each artwork. A collaboration, a generational connection, a tie between us. From the ancestral substance that makes up my bones and blood to the engagement with community, all of it functions as a means to do the necessary work."
Clark graduated from Cranbrook Academy of Art with an MFA in Fiber in 1995, launching a prolific career in which she often uses everyday fiber materials—hair, flags, and found fabric—to examine issues of history, racial injustice, cultural legacies, and reconciliation. This exhibition shows how her community-centered projects facilitate new collective encounters across racial, gender, and socioeconomic divisions.
In 2020, during the height of the COVID-19 pandemic, Cranbrook Art Museum worked with Clark alongside the City of Detroit and the Detroit Riverfront Conservancy to organize The Healing Memorial, which is currently installed at Huntington Place in Detroit. The large-scale installation is a site-specific adaptation of Clark's Beaded Prayers Project, created to help the Detroit community heal from loss during the pandemic. Metro Detroit residents created small memorial pouches using fabric from loved ones or donated material and containing a written commemoration, intention, wish, or prayer. Each pouch was sewn shut with decorative beads and hung on large panels. To date, there are more than 4,000 pouches on view at Huntington Place. The project in its entirety will move to Cranbrook Art Museum to become part of the Sonya Clark: We Are Each Other exhibition, where the project will continue to grow with additional contributions.
"The museum exhibition invites audiences to actively participate in several acts of making or hands-on exploration, which links tactile experiences to examinations of American history and also our current moment, including a reactivation of The Healing Memorial," said Cranbrook Art Museum Chief Curator Laura Mott. "The museum will also host hands-on making projects for the general public in the city of Detroit throughout the summer of 2023, creating opportunities for connection and conversation."
The ethos of Clark's participatory work is embedded in the title We Are Each Other. It is inspired by the poem "Paul Robeson" (1970), about the civil rights activist, by Gwendolyn Brooks, which ends with the phrase, "we are each other's harvest/ we are each other's business/ we are each other's magnitude and bond."
At Cranbrook Art Museum, several of Clark's projects created through strategies of mass participation will be on view, holding the collective memory of thousands. A selection of these projects includes:
Finding Freedom
A large-scale canopy composed of cyanotype reactive fabric that provides the illusion of the night sky overhead. The celestial viewpoint embedded with several Big Dipper constellations allows the viewer to imagine the way starlight guided enslaved individuals along the Underground Railroad toward the multiple freedoms they had been denied.
The squares were created by Clark in collaboration with students, researchers, friends, and a group of incarcerated men. The canopy hangs from the gallery ceiling and visitors will be able to illuminate the designs with blacklight flashlights.
The Hair Craft Project
A collaboration with local Black hairdressers in Richmond, Virginia, this is the first time this project will be featured in Detroit. Using her own head as a canvas, Clark worked with stylists to break down barriers between hair salons and galleries as sites of aesthetics, craft, skill, improvisation, and commerce with a series of photographs and braided hair designs on canvases examining cultural narratives embedded within the everyday materials of cloth and hair.
Unraveling
In this ongoing performance, the artist works alongside individual gallery and museum visitors to unravel a Confederate battle flag thread by thread. The performance is slow and toilsome, meant to symbolically represent the collective work involved in the dismantling of the ideas of the Confederacy, White supremacy, and racism in the United States.
Monumental Cloth, The Flag We Should Know
Monumental Cloth, The Flag We Should Know, is a series of artworks and activations based on the historic repurposed dish towel that was used to signal a truce by Confederate forces at Appomattox in 1865. In Many, Clark has recreated 100 replicas of the little-known truce flag as a commentary on historical erasures and the enduring legacy of the Civil War. Viewers are invited to weave the flag on looms in the galleries and make tracings of the flag's waffle weave surface pattern to take home.
Solidarity Book Project
Solidarity Book Project is a collaborative, community-based artwork and activist initiative that invites participants to declare their commitment to a more equitable world by turning social- and racial justice-related books into sculptures. Originally a collaboration between the artist and Amherst College, the project is an act of solidarity with Black and Indigenous communities.
The exhibition will fill the upper galleries of Cranbrook Art Museum with approximately 50 of Clark's works, with a range of photography, sculpture, and large-scale installations. Cranbrook Art Museum will also partner with several local organizations throughout the summer to offer a robust schedule of programming that will carefully mirror Clark's work in the exhibition. The series will engage hundreds of Detroiters in creative acts of care and ingenuity.
The full schedule will be announced in the coming months.
"I've followed and admired Sonya's work for many years, so I'm excited and pleased that we can bring these large-scale participatory works to Detroit, a community where they will take on a special resonance," says Andrew Satake Blauvelt, Director of Cranbrook Art Museum.
The exhibition is complemented by the catalogue, Sonya Clark: We Are Each Other, the first publication to document and contextualize Clark's large-scale, collaborative artworks. Co-published by all three museums and Hirmer, the 184-page catalogue includes contributions by Leslie King-Hammond, Lowery Stokes Sims, Renée Ater, and interviews with Sonya Clark by Nick Cave and Joyce J. Scott. Clark is the recipient of a United States Artists Fellowship, a Pollock Krasner Award, an 1858 Prize, an Art Prize Grand Jurors Award, and an Anonymous Was a Woman Award. Her work has been exhibited in more than 350 museums and galleries in the Americas, Africa, Asia, Europe, and Australia. She is a Professor of Art at Amherst College in Massachusetts and previously served as Chair of the Craft/Material Studies Department at Virginia Commonwealth University in Richmond.
Sonya Clark: We Are Each Other is co-curated by Laura Mott, Chief Curator at Cranbrook Art Museum; Elissa Auther, Deputy Director of Curatorial Affairs and William and Mildred Lasdon Chief Curator at the Museum of Arts and Design; and Monica Obniski, Curator of Decorative Arts and Design at the High Museum.
The Cranbrook Art Museum presentation of Sonya Clark: We Are Each Other is supported by the Gilbert Family Foundation, the National Endowment for the Arts, the Ellsworth Kelly Foundation and the Foundation for Contemporary Arts, and the Art Dealers Association of America Foundation.
Public programs associated with the exhibition at Cranbrook Art Museum are supported by the Michigan Arts and Culture Council, and the National Endowment for the Arts.