"Cranbrook on the Green" opens to the public on May 24, 2023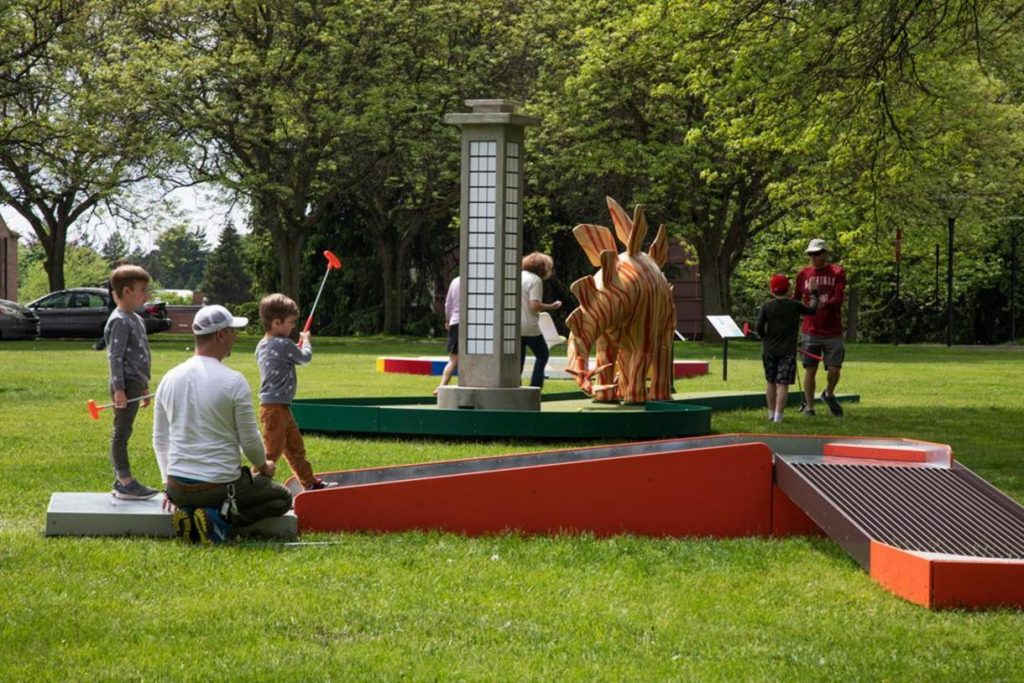 Bloomfield Hills, Mich., April 18, 2023 — Cranbrook Art Museum is pleased to announce that it is bringing back its artist-designed miniature golf course for the 2023 summer season by popular demand – with the addition of two new holes!
Members of the Cranbrook community (students, alumni, past and present faculty and staff) were asked to submit ideas for new hole designs that were inspired by a Cranbrook site, story, or alumni. All submissions were reviewed by a blind jury, who selected two new concepts. The winning concepts are: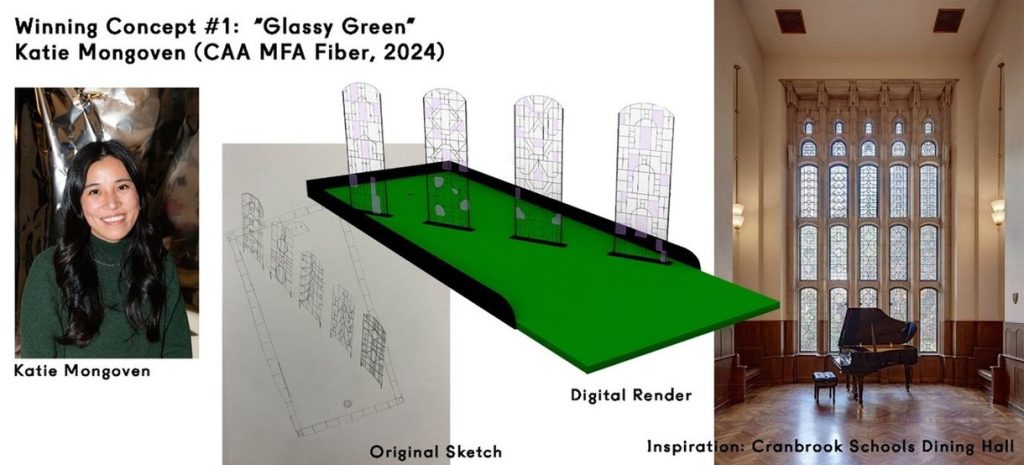 New Hole 1: Glassy Green
Cranbrook Academy of Art student Katie Mongoven was inspired by the windows of the Cranbrook Dining Hall on the Cranbrook campus of Cranbrook Kingswood Upper School. Designed by Eliel Saarinen in 1929 each window is a complex geometric tessellation of glass and each window has its own unique design.
For Cranbrook on the Green, the new hole will have five acrylic "windows" that mimic the windows of the dining hall. They will be placed on a diagonal angle with the windows acting as obstacles, presenting challenges for the player to navigate the ball through the panes to the hole. The hole will be sited on the course on a North/South orientation in direct sunlight, allowing the glass to cast shadows throughout the day in the same way the light passes through the dining hall itself.
Mongoven is a Chinese-American artist currently pursuing an MFA in Cranbrook Academy of Art's Fiber department, with an expected graduation date of 2024.

New Hole 2: Greek TheatreThe second new hole is developed by sisters Priscilla and Gabriela Lloyd, who currently work as part of the exhibition team at Cranbrook Institute of Science. Priscilla holds a BFA in Interior Design from Wayne State University and also works as a jeweler and has her own brand of ceramics. Gabriela is finishing her fourth year as an anthropology student at Wayne State University and will begin her MA program in the fall (while continuing to work on excavations in Ecuador).
Their design is inspired by Cranbrook's Greek Theatre, located near Cranbrook House and next to what is now St. Dunstan's Theatre. It was designed by Marcus Burrowes in 1915 on the ridge adjacent to the estate's swimming pool. George Booth was the first president of the Detroit Society of Arts and Crafts (DSAC), and annually the DSAC's Little Theatre department performed outdoor plays, which gave birth to the idea for the theatre. The result is a neo-classical amphitheater with an open-backed stage with a view of the pool and bathhouse.
The flow of the hole will begin at the top of the stepped semi-circle seating area, where players will have to traverse the tiered area to guide their ball to the second part of the hole, which features the theater's sunken "pool" (a painted blue depression that adds another challenge to the game).
In addition to having their designs manufactured for play, designers of each winning concept were awarded a $1,000 honorarium and season passes to Cranbrook on Green and a one-year membership for their household to Cranbrook Art Museum.
In addition to the two new holes, the course will also feature the return of the popular holes:
Gateway: Start your play at our bonus hole! Play through Cranbrook's famous gates and around Cranbrook Schools' Quadrangle Fountain.
Lightside Up: The Kingswood Auditorium has been turned upside down in this skee-ball-inspired hole.
Bertoia Bronze: Strike a chord with Harry Bertoia's Sonambient sound sculpture-inspired hole.
Sunken Garden: Get lost in the hedges of the sunken garden…but don't lose your ball in the flower beds!
At the Wheel: Take a spin at the potter's wheel. Drop your ball inside the vessel and turn the wheel. Play among the giants of ceramics, such as Maija Grotell.
Slum of Legs: Have a seat! Move Your Feet! Distract your opponents by adding your own legs as obstacles in this hold inspired by Eero Saarinen's iconic Tulip chair (which was his solution to a traditional table and chairs "slum of legs.")
Steggy's Escape: Cranbrook's favorite dinosaur has made his escape! Camouflaged in Ruth Adler Schnee's Strata fabric, can you find him?
Triton Poolsball: The Triton Pool has been turned into a giant foosball table! Don't get caught up dancing with Carl Milles' sea creatures. You must make it past the Tritons to score!
Peristyle Playthrough: End your play at Cranbrook's grandest architecture. A portal has opened in the Orpheus Fountain – can you make it through? Or will the Peristyle become your limestone trap?
The course will be open from May 24 through September 3, 2023. New this year: Every Thursday we will offer a cash bar serving wine and beer to enjoy while playing the course!
The course will be open from May 24 through September 3, 2023. New this year: Every Thursday we will offer a cash bar serving wine and beer to enjoy while playing the course!Cranbrook on the Green Hours
May 24 through September 3
Wednesday: 10am–5pm
Thursday: 10am–8pm
Friday: 10am–5pm
Saturday: 10am–5pm
Sunday: 10am–5pm
Cranbrook on the Green Rates
$15 for Adults
$10 for ArtMembers and Detroit residents
$8 for children under 12
Registration includes gallery admission. Tickets may be purchased on-site; pre-registration is not required.
Check-in for the course will be located at Knoll Walkway immediately adjacent to Triton Pool.