Barbara Cooper – Spiritus, 1990
Back to Collections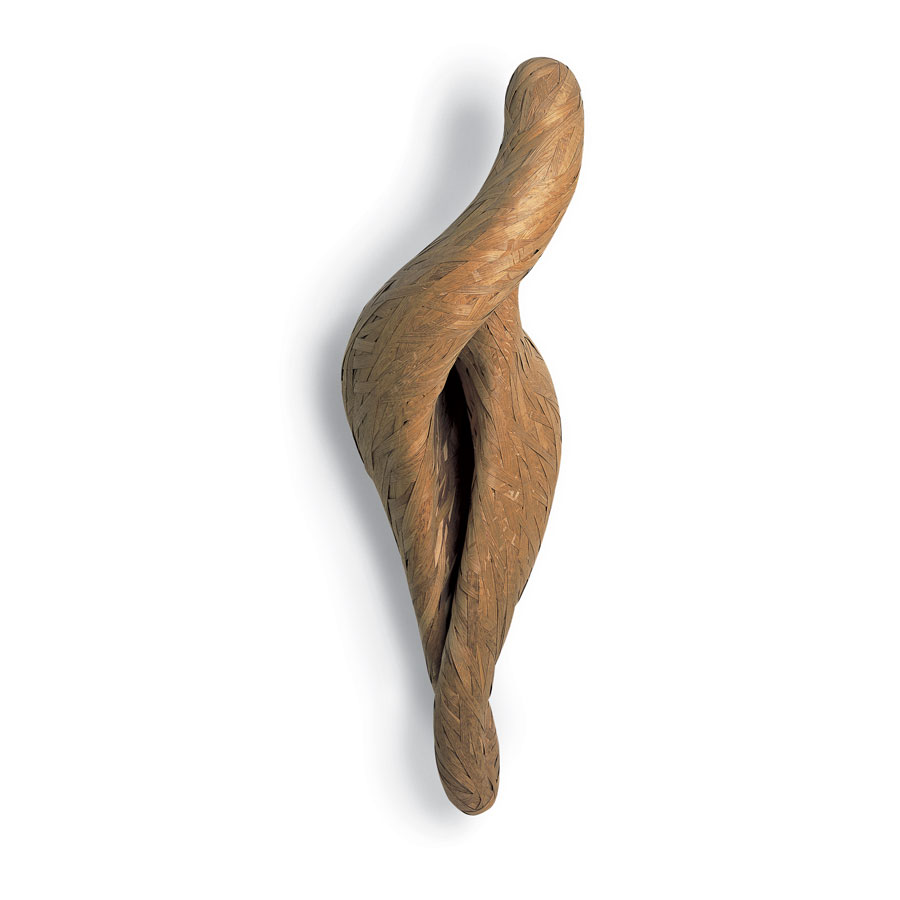 Born 1949, Philadelphia, Pennsylvania; Cranbrook Academy of Art, MFA, Department of Fiber, 1977;
Oak and Babinga woods, interlaced and glued
65 ¼ x 19 ½ x 23 inches
Promised Gift of Drs. Joan and Bernard Chodorkoff
T 2003.24
Barbara Cooper's sculptures wed form and content in an interlocking relationship. Technically, her sculptures from 1988 through 1995 are improvisational variations on three dimensional fiber techniques such as plaiting, in which Cooper freely manipulates strips of thin wood veneer in a repetitive over lapping process of layering and gluing to achieve undulating surfaces. Employing materials left over from furniture manufacturing, Cooper recycles and transforms these scraps of wood veneer into sensuous sculptural contemplations of time, growth and renewal.
The involuted form of Spiritus merges a sense of protective armored strength with a mysterious inner fragility. A substantial sinewy mass of interwoven material forcefully spirals inward, enclosing and protecting a negative, shadowed recess. The dramatic play of light and shadow across the unadorned surface of wood heightens the contrast of interior and exterior, visible and hidden. Simultaneously abstract and figural, Spiritus hovers seductively, both revealing and obscuring the animating forces of nature, mediated here by human intervention.
Copyright © 2023 Cranbrook Art Museum. All rights reserved. Created by Media Genesis.