Bridget Riley – Shih-Li, 1975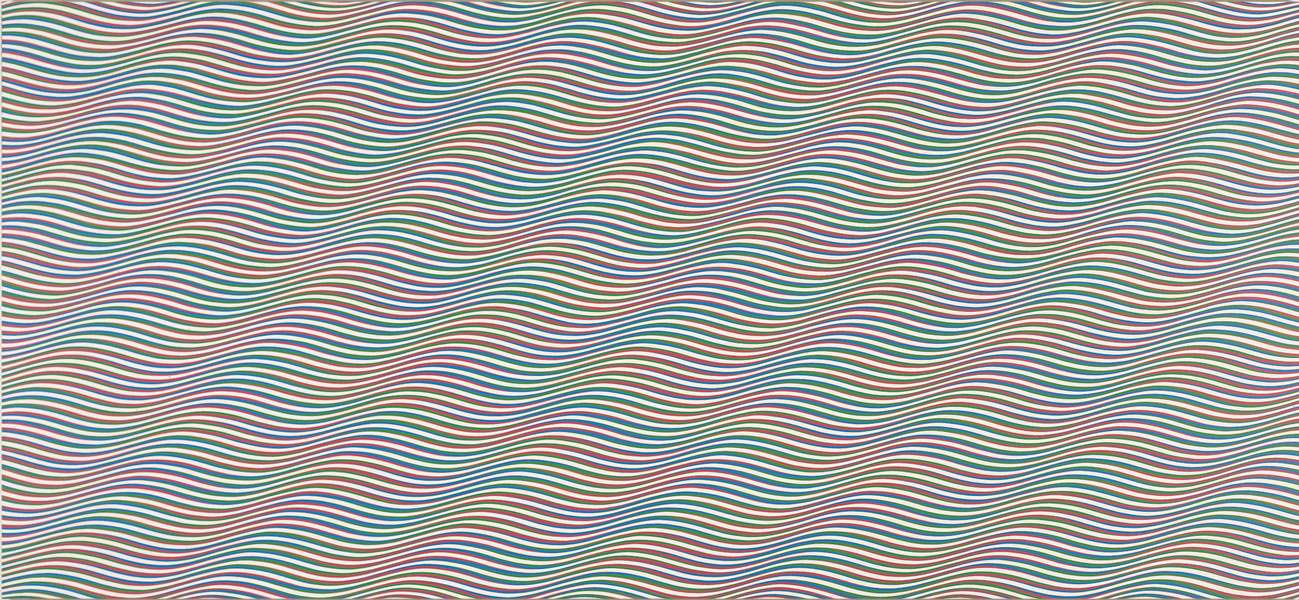 Born 1931, London, England;
Acrylic on linen
63 x 140 inches
Gift of Rose M. Shuey, from the Collection of Dr. John and Rose M. Shuey
CAM 2002.36
Bridget Riley's sensational paintings define the unique strain of formalist abstraction dubbed Op Art for its enhanced optical effects. Coinciding with the psychedelic revolution of the 1960s, Op Art demonstrated a modern scientific perspective on human perception and psychology. Riley and colleagues such as Victor Vasarely and Richard Anuszkiewicz created patterns of form and color calculated to stimulate visual response, thus making the viewer's own physiological experience the ultimate subject of their work.
In the vibrant Shih-Li, Riley weaves a repeating pattern of undulating stripes against an expansive white ground. Each stripe is comprised of twisting red, green and blue bands which yield shifting optical color mixtures as they snake across the canvas. As a result, the linear pattern appears to pulsate electrically over the surface of the painting, causing disorientation and discomfort as our eyes attempt to synthesize its dynamic interactions. Like parallel experiments in sound and kinetic art of the 1960s and 1970s, Riley's delirious abstractions succeeded in liberating art from historical stasis by awakening the senses to new possibilities.
Copyright © 2021 Cranbrook Art Museum. All rights reserved. Created by Media Genesis.