Charles and Ray Eames – FSW (Folding Screen-Wood)
Back to Collections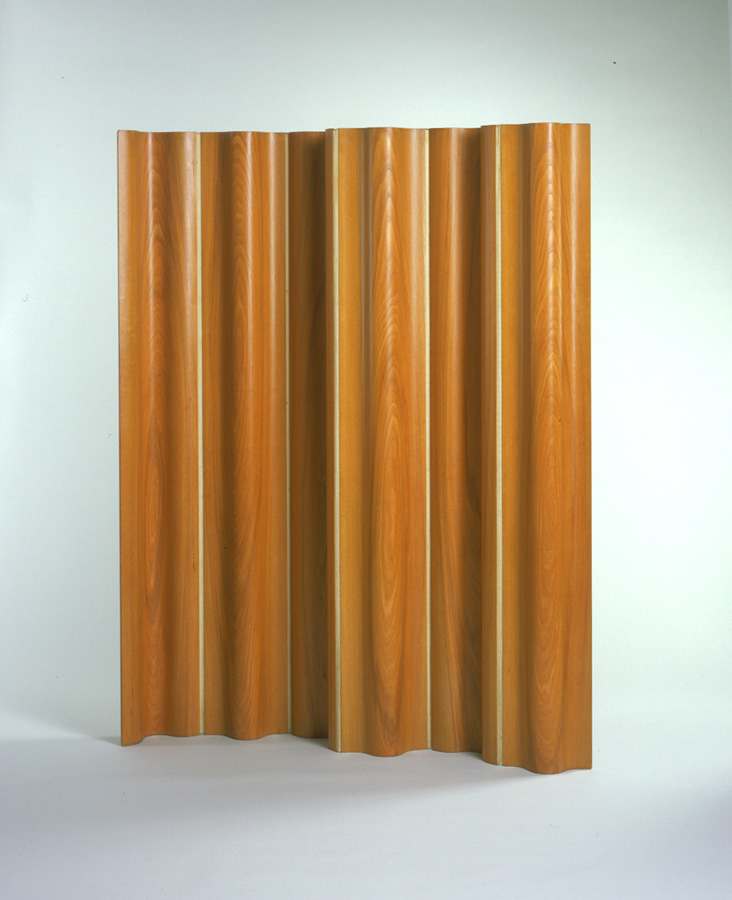 Charles: Born 1907, St. Louis, Missouri; Cranbrook Academy of Art (CAA), Student, Architecture, 1938–1939, CAA Instructor of Design, 1939–1941; died 1978, St. Louis, Missouri
Ray: Born 1912, Sacramento, California; Cranbrook Academy of Art, Student, 1940–1941; died 1988, Venice, California
Manufacturer: Herman Miller, Inc., Zeeland, Michigan
Laminated plywood with ash veneers and canvas
68 x 59 ½ inches
Museum purchase with funds from the lmerman Acquisition Fund
CAM 1992.12
Charles and Ray Eames began their experiments with plywood furniture in 1940 while in residence at Cranbrook Academy of Art. During World War II they successfully mass-produced molded plywood leg splints for the U.S. Navy. Thin sheets of wood were shaped and glued together under pressure into compound curves, taking advantage of the strength and flexibility of inexpensive materials.
The FSW (Folding Screen-Wood) is made up of molded panels joined with canvas "hinges" that are laminated between the wood layers. The entire screen can be folded into a portable compact unit. Recalling the organic folds of heavy drapery, the self-supporting structure offers a simple and elegant way of dividing a room, screening off objects or activities, or serving as a background to other furniture. The modular construction made it feasible to offer a number of variations to suit one's taste. FSW was available in three wood veneers: birch, oak, and calico ash. It also came in two heights: 30 inches and 68 inches; and three lengths: six, eight, or ten panels.
Copyright © 2023 Cranbrook Art Museum. All rights reserved. Created by Media Genesis.