Join Cranbrook Academy of Art at deSalle Auditorium for a free, public lecture from Laura Gutiérrez on artist Nao Bustamante.
Nao Bustamante is a multidisciplinary artist whose work is very much rooted in deep research, whether this be archival or otherwise. And through her performances, installations, and media work—she often overlays these art forms—she is also intent in making grand and/or minute statements about life and death, and everything in between, all the while never losing rage or joy, and whatever other emotions may surface depending on the artistic pieces, and what they may elicit. This presentation will serve as a brief introduction to some of Bustamante's work. But rather than focusing on what I have already written and published on, I will devote discuss three research-based projects that are invested in re-imaging the past, in varying ways and which I argue is often done to move us (forward) with more ease and care. These three projects are ambitious in scope and are composed of different parts. The first one, SILVER AND GOLD (2009), is a filmformance (a term coined by Bustamante) that can be briefly described as a meditation on our relationships to cinematic divas—particularly those of yesterday—through a brilliant layering of film and live performance; the second is SOLDADERA (ongoing since 2010) that consists of different elements and artistic forms as it reimagines the figure of the "women soldier" and brings her into the present and future; and the last one is BLOOM (ongoing since 2021), one of Bustamante's most recent research-based art project in which she re-imagines the vaginal speculum at the same time that the multi-media project also tackles with the dark history of gynecological healthcare.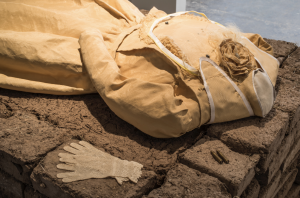 Laura Gutiérrez is Associate Professor in Latinx Studies at the University of Texas at Austin. Her research areas are Latinx performance, visual culture, queer studies, and feminisms. Gutiérrez is the author of Performing Mexicanidad: Vendidas y Cabareteras on the Transnational Stage (recipient of an MLA book award) and has published on Latinx performance, border art, Mexican video art, and Mexican political cabaret. She was a fellow in the Getty Scholars Program in LA (fall 2022) and currently holds a Provost's Authors Fellowship (2022-2023) as she completes her monograph in progress Binding Intimacies in Contemporary Queer Latinx Performance and Visual Art.
Tagged:
Watch Previous Lectures