The innovative work from the next generation of architects, artists, and designers will be on display at the 2022 Graduate Degree Exhibition of Cranbrook Academy of Art. The Degree Exhibition showcases pieces that are the culmination of two years of studio work from a diverse group of graduates as they launch their careers.
The show opens to the public on Sunday, April 24, with a special ArtMembers' Preview Day on Saturday, April 23. In compliance with safety and health regulations, in-person events are subject to change.
PURCHASE GENERAL ADMISSION HERE
Tyrrell Winston is a self-taught, Brooklyn-based artist whose practice is rooted in themes of memory, nostalgia, found objects, and sport's culture. Perhaps best known for his gridded assemblages of found basketballs, Winston's conceptually oriented work mines the material and cultural history of objects. Winston's particular focus on sports is, in part, because it is a collective act that society undertakes together. A tiger has its own unique pattern of stripes; for many, a sports team of a city is like their own brazen stripes—a source of identity, pride, and legacy.
As part of a year-long residency for his first solo museum presentation, Winston has collected weathered and torn basketball nets from around Detroit and replaced them with new ones. In the series called Network, he will transform the worn nets into new dynamic textile artworks. Additionally, the exhibition will include site-specific Protection Paintings, which juxtapose found worn tarps and panels of glossy automotive paint, and a Michigan-based series of his Punishment Paintings, which replicate the autograph signatures of famous athletes, over and over again.
Tyrrell Winston: A Tiger's Stripes is organized by Cranbrook Art Museum and curated by Laura Mott, Chief Curator. The project is supported by a residency facilitated by Library Street Collective.
While home is commonly used in reference to a physical space, the concept of home extends far beyond the parameters of any structure. It is a place, but also a feeling. According to social scientist Aviezier Tucker, "most people spend their lives in search of a home, at the gap between the natural home…and the particular ideal home where they would be fully fulfilled."
The exhibition Homebody is rooted in a desire to unpack the layers of "home" by placing in conversation artistic interpretations of the word and the complex feelings it evokes. Several of the artists investigate technologies used in the home, including the digital realm that opens up borders between self and other, the public and the private. Artists also abstract and reimagine traditional objects of comfort and utility, tapping into the complex relationship between the domestic space and capitalistic society. "Home" is also considered from national and ethnographic points of view through works that explore immigrant perspectives that straddle two homes, often a world apart. Other artists contemplate home from a more bodily perspective, how we find belonging in our own skin and the spaces we inhabit.
Homebody seeks to unravel the ambiguous term of "home" by delving into connotations of comfort, nostalgia, alienation, and perpetual longing evoked by a word wrapped in promises. All of the artists featured in the exhibition have ties to Detroit, granting Homebody both a local perspective and a spectrum of backgrounds and interests that reflect the complexity of the city itself.
Artists featured include Tyanna Buie, Jason Carter, Mitch Cope, Lorena Cruz, Jessika Edgar, Sophie Eisner, Mario Moore, Martha Mysko, Dominic Palarchio, Rachel Pontious, Amy Fisher Price, Farah Al Qasimi, Jessica Rohrer, Victoria Shaheen, Darryl DeAngelo Terrell, Dessislava Terzieva, Corine Vermeulen, Meredith Walker, Ricky Weaver, and Renee Willoughby.
Homebody is organized by Cranbrook Art Museum and curated by Kat Goffnett, Assistant Curator of Collections at Cranbrook Art Museum.
Eliel Saarinen was already an architect of renown in his native Finland before emigrating with his family to the United States in 1923.
He would meet George Booth, Cranbrook's founder along with his wife Ellen Scripps Booth, through his son Henry who was studying architecture with Saarinen at the University of Michigan. Saarinen would commence building the Booths' dream of Cranbrook in a series of astoundingly beautiful buildings, completing the historic campus in stages from 1927–1942. The result is one of the world's most enchanted places—a total work of art, where every detail has been designed.
Over the last several years, photographer James Haefner has documented the art and architecture of Cranbrook, including the buildings featured in this exhibition: Kingswood School, the Academy of Art Library and Art Museum, and Saarinen House, as well as new images of Cranbrook School.
Designated in 1989 as a National Historic Landmark, Cranbrook Educational Community comprises 319 acres of stunning architecture, graceful fountains, and bucolic landscapes.
Building Cranbrook: Saarinen in Michigan is organized by Cranbrook Art Museum and curated by Andrew Blauvelt, Director, with support from ArtMembers of Cranbrook Art Museum and the Museum Committee.
Featuring 50 photographs by acclaimed Bloomfield Hills-based photographer James Haefner, this exhibition explores Michigan's extraordinary legacy in architectural modernism.
Diverse in style and rich in significance, Michigan Modern documents landmark buildings throughout the state, from the innovative GM Tech Center designed by Eero Saarinen in Warren, Michigan and the refined beauty of Minoru Yamasaki's McGregor Conference Center at Wayne State University in Detroit to Richard Meier's iconic Douglas House in Harbor Springs and Zaha Hadid's striking MSU Broad Art Museum in East Lansing.
At the confluence of art, industry, and education, Michigan has long played an outsized role in the evolution of modern architecture and design. The architects of the 34 projects documented by Haefner reads like who's-who of modernism and includes the work of Eliel and Eero Saarinen, Frank Lloyd Wright, Alden B. Dow, Alexander Girard, William Kessler, George Nelson, Mies van der Rohe, Marcel Breuer, Gunnar Birkerts, and Kevin Roche, among many others.
In conjunction with this exhibition is a gallery of photographs by Haefner of Cranbrook's historic landmark campus, highlighting the architecture of Eliel Saarinen.
The exhibition emerged from Haefner's work documenting important examples of historically significant architecture throughout Michigan for the State Historic Preservation Office and is based on the book by its former chief officer, Brian D. Conway, Michigan Modern: An Architectural Legacy.
This exhibition is organized by James Haefner with interpretive texts by Brian D. Conway and curated by Andrew Blauvelt, Director, and is supported by ArtMembers of Cranbrook Art Museum and the Museum Committee.
The social activism of the 1960s and 1970s gave rise to an "underground press," which provided an alternative way to publish writings on a variety of issues, including Black empowerment, the quest for civil liberties and workers' rights, anti-Vietnam war sentiment, and critiques of capitalism. This was not a single press but rather a loose collection of independent magazines, alternative newspapers, fringe book publishers, and printing cooperatives, which helped democratize publishing by making the necessary equipment and processes available to ordinary citizens. Alternative presses were created to bypass reluctant commercial printers who simply did not agree with the ideas expressed or feared boycotts by the public or from other clients, as well as reprisals from the government.
Detroit became a hub for such alternative thinking and publishing, both before and after the wake of the citizen uprisings against institutionalized anti-Black racism in 1967 as well as on the basis of its strong union presence in manufacturing. In 1969, a group of friends, including Fredy and Lorraine Perlman, purchased a used industrial printing press and set up shop in the city, eventually calling themselves the Detroit Printing Co-op.
Although lacking any formal printing or design training, Fredy Perlman found an innate connection to the visual possibilities of the printed page. His printing experiments ranged from creating striking collages and using overlapping ink colors to inventive treatments for texts and images on the page. Rejecting the convention of privately owned property, the Co-op also made its press available for like-minded others to use, and printed paid commissions to help cover expenses. The Co-op's activities included Fredy and Lorraine Perlman's book imprint called Black & Red, which published Guy Debord's seminal text, Society of the Spectacle; printing one of the era's defining magazines, Radical America; and collaboration with members of Black Star, the publishing arm of the League of Revolutionary Black Workers, and Detroit's influential anarchist newspaper Fifth Estate.
The story of the Detroit Printing Co-op underscores the power of the press to voice dissent, organize communities of like-minded individuals, and to articulate a case for social change. In an era dominated by the printed word and graphic communications, the Detroit Printing Co-op offered a small but potent example of such power, one that finds echoes not only in some of today's pressing social issues, but also in the resurgent interest in self-publishing and alternative printing methods in an age of screen-based social media
Virtual Tour of The Detroit Printing Co-op: The Politics of the Joy of Printing
For more information about The Detroit Printing Co-op: The Politics of the Joy of Printing, click here.
Detroit Printing Co-op: The Politics of the Joy of Printing is based on a previous exhibition produced by 9338 Campau and subsequent research for a publication of the same title by Danielle Aubert, which was supported in part by the James L. Knight Foundation, Wayne State University, and AIGA. The exhibition was organized by Cranbrook Art Museum and was curated by Andrew Blauvelt and Danielle Aubert with exhibition design by Jon Geiger.
Headspace: Jim Dine's Glyptotek
Inspired by a 1984 trip to Glyptothek, Munich's museum dedicated to antique Greek and Roman sculpture, artist Jim Dine set out to create a book of prints inspired by the collection. He produced forty drawings uniquely designed to function as transparencies in the production of héliogravure prints, a printmaking process used to reproduce the earliest photographs. Dine's prints exist both as individual works and as a collection, bound together in the oversized book, Glyptotek. According to Dine, each individual image in his Glyptotek can stand alone, but when viewed together they form a singular narrative "about learning from the Ancient World."  
Headspace pairs Dine's prints with sculptural works by other artists from Cranbrook Art Museum's permanent collection. These pieces from the twentieth century draw aesthetic parallels to Dine's gestural renderings. Many of the selected busts mimic Dine's ancient source material, while other works abstract the figure and reduce the form to a simple suggestion of it represents.  
Virtual Tour of Headspace: Jim Dine's Glyptotek
Headspace: Jim Dine's Glyptotek is organized by Cranbrook Art Museum and curated by Kat Goffnett, the Jeanne and Ralph Graham Collections Fellow, and features works gifted by George Francouer and Gerald Earles. 
Allie McGhee has been an important pillar of the Detroit art scene for more than five decades with a practice defined by his signature approach to abstraction. This retrospective is a long overdue presentation of significant past works from McGhee's extensive and dynamic oeuvre, as well as the premiere of ambitious new paintings created for this auspicious occasion.
In the late 1960s, McGhee shifted his practice from representational depictions because he was drawn to the long communicative history of geometry and abstraction in the timeline of humanity. One constant inspiration has been traditional African sculpture and its forms of symbolism. The title of this exhibition—Banana Moon Horn—is the name McGhee has given to the recurring arcing forms that he has explored throughout his career. The Banana Moon Horn has associations ranging from the natural world, humor, and ancient art—myriad interpretations are both intentional and welcome. McGhee often overlaps and mixes mediums by incorporating found objects or bringing a three-dimensional quality to his paintings. To this end, his collapsed canvas works have conceptual ties to McGhee's research into science and the cosmos, often alluding to the view into a microscope or possibly collapsing universe.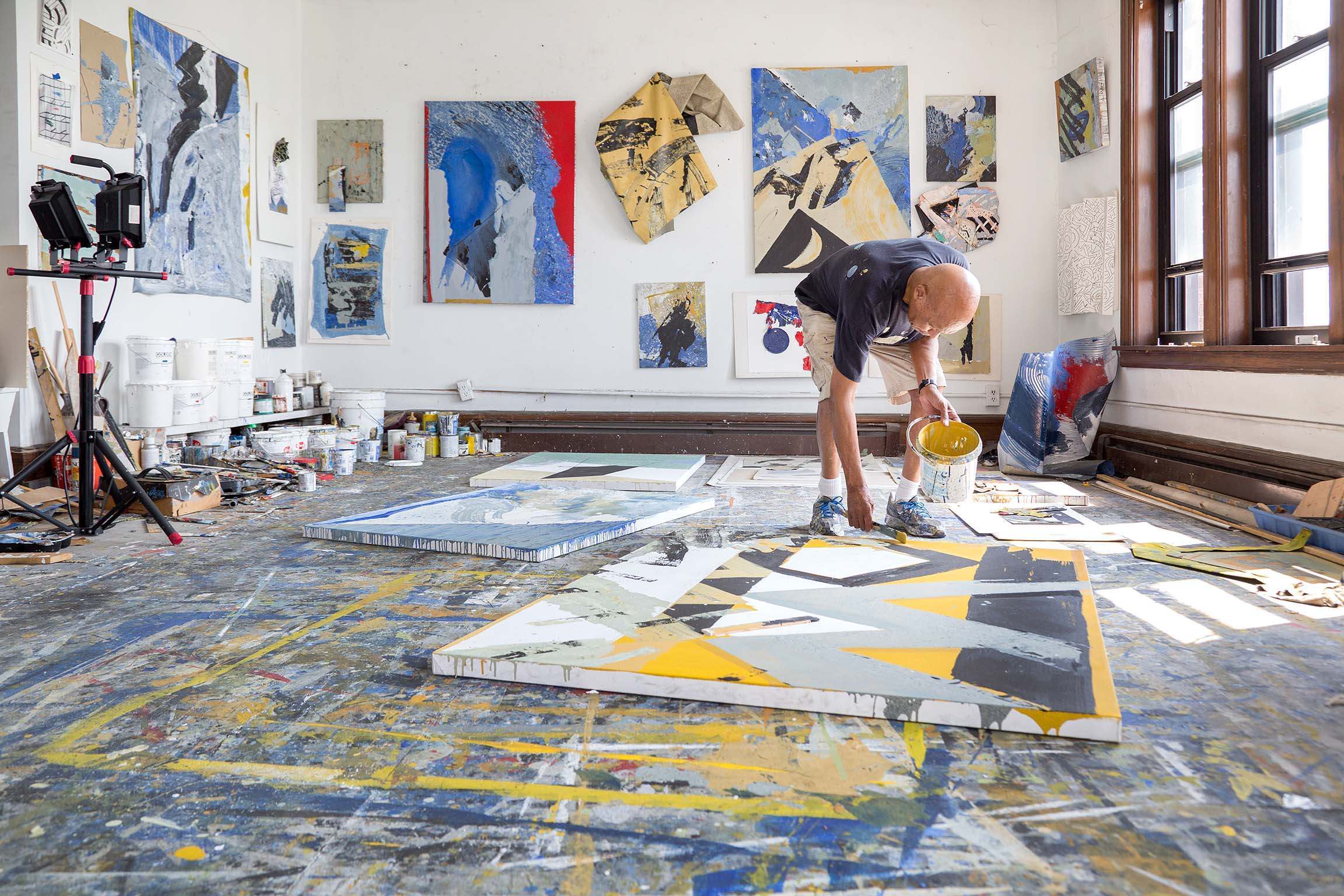 McGhee can be found in his studio "every single day except Christmas," and this exhibition is a crescendo of his daily experiments over the years. McGhee's vivacious mind has also rendered his studio as an important place for lively conversations across generations, particularly in the Black artistic community. The background of these discussions is often set to the sound of jazz, a musical ethos of improvisation and lyrical abstraction that also emerges throughout McGhee's practice.
Acclaimed both locally and nationally, Tunde Olaniran is a multifaceted visual artist, musician, singer, and performer from Flint, Michigan. Tunde Olaniran: Made a Universe is the culmination of his creative desire to incorporate music composition, performance, dance, handmade costumes, and art installation into an ambitious new body of work.
Tunde Olaniran: Made a Universe has the narrative arc of a hero's journey. The exhibition features a series of videos that takes its inspiration from the kind of archetypes found in comic books, such as the New Mutants storyline in the X-Men series. Within this premise, the character's often perceived weakness translates into their unique superpower. Olaniran applies this transformation to the personal narrative of his own intersecting social identities, which he self-describes as "a child of an immigrant, gender non-conforming, fat, poor, and Black." In this imagined parallel dimension, the artist triumphs over a series of trials and evolves into a superhuman force. The film series Made a Universe examines what it means to unlock your power in the face of fear and repression, and how one must unify various fragments of their psyche to connect with the world and themselves on a deeper level. The series, shot on location throughout Detroit, is directed and scored by Olaniran and features collaborations across artistic mediums with several multidisciplinary, award-winning artists. This multimedia production explores themes of agency, liminality, human connection, and psychic and emotional power.
Tunde Olaniran: Made A Universe is organized by Cranbrook Art Museum and curated by Laura Mott, Senior Curator of Contemporary Art and Design. The film series is produced by Paige Wood. The project is generously supported by The John S. and James L. Knight Foundation, The National Endowment of the Arts, Jennifer and Dan Gilbert, Don Manvel, and additional support by Library Street Collective.

Olga de Amaral, one of the most recognized names in Latin American art, lives and works in her native Bogotá, Colombia. Tracing the artist's career over five decades, Olga de Amaral: To Weave a Rock is the artist's first major museum retrospective in the United States, consisting of some 60 works that elucidate her seminal influence and technical innovations. The artist was first introduced to the medium of fiber during her studies with Marianne Strengell at Cranbrook Academy of Art from 1954-1955. Since that time her work has prolifically evolved beyond the functional qualities of weaving into more experimental and sculptural woven forms.
Amaral's woven sculptures are the result of a lifetime of experimentation and material studies drawing on techniques like plaiting and wrapping, using materials as varied as horsehair and gold leaf. Amaral has formed a unique visual language of abstraction that draws upon Colombia's landscape and history as well as the artist's own identity. Taking its title from an assignment Amaral had given to her students at the famed Haystack craft school in 1967, the exhibition Olga de Amaral: To Weave a Rock poetically expounds on her expansive views of textile practice. Still practicing in her eighties, Olga de Amaral's work offers a prescient exploration of the expressive potential of fiber at a moment of renewed interest in the medium by contemporary artists and historians alike.
Olga de Amaral: To Weave a Rock is organized by Cranbrook Art Museum and The Museum of Fine Arts, Houston. The exhibition is curated by Laura Mott, Senior Curator of Contemporary Art and Design, and Anna Walker, Assistant Curator, Decorative Arts, Craft, and Design, The Museum of Fine Arts, Houston. The project is generously supported by The National Endowment for the Arts, a Craft Research Fund Grant from the Center for Craft, and The Graham Foundation for Advanced Studies in Fine Arts.