Eliel Saarinen was already an architect of renown in his native Finland before emigrating with his family to the United States in 1923.
He would meet George Booth, Cranbrook's founder along with his wife Ellen Scripps Booth, through his son Henry who was studying architecture with Saarinen at the University of Michigan. Saarinen would commence building the Booths' dream of Cranbrook in a series of astoundingly beautiful buildings, completing the historic campus in stages from 1927–1942. The result is one of the world's most enchanted places—a total work of art, where every detail has been designed.
Over the last several years, photographer James Haefner has documented the art and architecture of Cranbrook, including the buildings featured in this exhibition: Kingswood School, the Academy of Art Library and Art Museum, and Saarinen House, as well as new images of Cranbrook School.
Designated in 1989 as a National Historic Landmark, Cranbrook Educational Community comprises 319 acres of stunning architecture, graceful fountains, and bucolic landscapes.
Building Cranbrook: Saarinen in Michigan is organized by Cranbrook Art Museum and curated by Andrew Blauvelt, Director, with support from ArtMembers of Cranbrook Art Museum and the Museum Committee.
Featuring more than fifty photographs by acclaimed Bloomfield Hills-based photographer James Haefner, this exhibition explores Michigan's extraordinary legacy in architectural modernism.
Diverse in style and rich in significance, Michigan Modern documents landmark buildings throughout the state, from the innovative GM Tech Center designed by Eero Saarinen in Warren, Michigan and the refined beauty of Minoru Yamasaki's McGregor Conference Center at Wayne State University in Detroit to Richard Meier's iconic Douglas House in Harbor Springs and Zaha Hadid's striking MSU Broad Art Museum in East Lansing.
At the confluence of art, industry, and education, Michigan has long played an outsized role in the evolution of modern architecture and design. The architects of the 34 projects documented by Haefner reads like who's-who of modernism and includes the work of Eliel and Eero Saarinen, Frank Lloyd Wright, Alden B. Dow, Alexander Girard, William Kessler, George Nelson, Mies van der Rohe, Marcel Breuer, Gunnar Birkerts, and Kevin Roche, among many others.
In conjunction with this exhibition is a gallery of photographs by Haefner of Cranbrook's historic landmark campus, highlighting the architecture of Eliel Saarinen.
The exhibition emerged from Haefner's work documenting important examples of historically significant architecture throughout Michigan for the State Historic Preservation Office and is based on the book by its former chief officer, Brian D. Conway, Michigan Modern: An Architectural Legacy.
This exhibition is organized by James Haefner with interpretive texts by Brian D. Conway and curated by Andrew Blauvelt, Director, and is supported by ArtMembers of Cranbrook Art Museum and the Museum Committee.
The social activism of the 1960s and 1970s gave rise to an "underground press," which provided an alternative way to publish writings on a variety of issues, including Black empowerment, the quest for civil liberties and workers' rights, anti-Vietnam war sentiment, and critiques of capitalism. This was not a single press but rather a loose collection of independent magazines, alternative newspapers, fringe book publishers, and printing cooperatives, which helped democratize publishing by making the necessary equipment and processes available to ordinary citizens. Alternative presses were created to bypass reluctant commercial printers who simply did not agree with the ideas expressed or feared boycotts by the public or from other clients, as well as reprisals from the government.
Detroit became a hub for such alternative thinking and publishing, both before and after the wake of the citizen uprisings against institutionalized anti-Black racism in 1967 as well as on the basis of its strong union presence in manufacturing. In 1969, a group of friends, including Fredy and Lorraine Perlman, purchased a used industrial printing press and set up shop in the city, eventually calling themselves the Detroit Printing Co-op.
Although lacking any formal printing or design training, Fredy Perlman found an innate connection to the visual possibilities of the printed page. His printing experiments ranged from creating striking collages and using overlapping ink colors to inventive treatments for texts and images on the page. Rejecting the convention of privately owned property, the Co-op also made its press available for like-minded others to use, and printed paid commissions to help cover expenses. The Co-op's activities included Fredy and Lorraine Perlman's book imprint called Black & Red, which published Guy Debord's seminal text, Society of the Spectacle; printing one of the era's defining magazines, Radical America; and collaboration with members of Black Star, the publishing arm of the League of Revolutionary Black Workers, and Detroit's influential anarchist newspaper Fifth Estate.
The story of the Detroit Printing Co-op underscores the power of the press to voice dissent, organize communities of like-minded individuals, and to articulate a case for social change. In an era dominated by the printed word and graphic communications, the Detroit Printing Co-op offered a small but potent example of such power, one that finds echoes not only in some of today's pressing social issues, but also in the resurgent interest in self-publishing and alternative printing methods in an age of screen-based social media
Virtual Tour of The Detroit Printing Co-op: The Politics of the Joy of Printing
For more information about The Detroit Printing Co-op: The Politics of the Joy of Printing, click here.
Detroit Printing Co-op: The Politics of the Joy of Printing is based on a previous exhibition produced by 9338 Campau and subsequent research for a publication of the same title by Danielle Aubert, which was supported in part by the James L. Knight Foundation, Wayne State University, and AIGA. The exhibition was organized by Cranbrook Art Museum and was curated by Andrew Blauvelt and Danielle Aubert with exhibition design by Jon Geiger.
Headspace: Jim Dine's Glyptotek
Inspired by a 1984 trip to Glyptothek, Munich's museum dedicated to antique Greek and Roman sculpture, artist Jim Dine set out to create a book of prints inspired by the collection. He produced forty drawings uniquely designed to function as transparencies in the production of héliogravure prints, a printmaking process used to reproduce the earliest photographs. Dine's prints exist both as individual works and as a collection, bound together in the oversized book, Glyptotek. According to Dine, each individual image in his Glyptotek can stand alone, but when viewed together they form a singular narrative "about learning from the Ancient World."  
Headspace pairs Dine's prints with sculptural works by other artists from Cranbrook Art Museum's permanent collection. These pieces from the twentieth century draw aesthetic parallels to Dine's gestural renderings. Many of the selected busts mimic Dine's ancient source material, while other works abstract the figure and reduce the form to a simple suggestion of it represents.  
Virtual Tour of Headspace: Jim Dine's Glyptotek
Headspace: Jim Dine's Glyptotek is organized by Cranbrook Art Museum and curated by Kat Goffnett, the Jeanne and Ralph Graham Collections Fellow, and features works gifted by George Francouer and Gerald Earles. 
Allie McGhee has been an important pillar of the Detroit art scene for more than five decades with a practice defined by his signature approach to abstraction. This retrospective is a long overdue presentation of significant past works from McGhee's extensive and dynamic oeuvre, as well as the premiere of ambitious new paintings created for this auspicious occasion.
In the late 1960s, McGhee shifted his practice from representational depictions because he was drawn to the long communicative history of geometry and abstraction in the timeline of humanity. One constant inspiration has been traditional African sculpture and its forms of symbolism. The title of this exhibition—Banana Moon Horn—is the name McGhee has given to the recurring arcing forms that he has explored throughout his career. The banana moon horn has associations ranging from the natural world, humor, and ancient art—myriad interpretations are both intentional and welcome. McGhee often overlaps and mixes mediums by incorporating found objects or bringing a three-dimensional quality to his paintings. To this end, his collapsed canvas works have conceptual ties to McGhee's research into science and the cosmos, often alluding to the view into a microscope or possibly collapsing universe.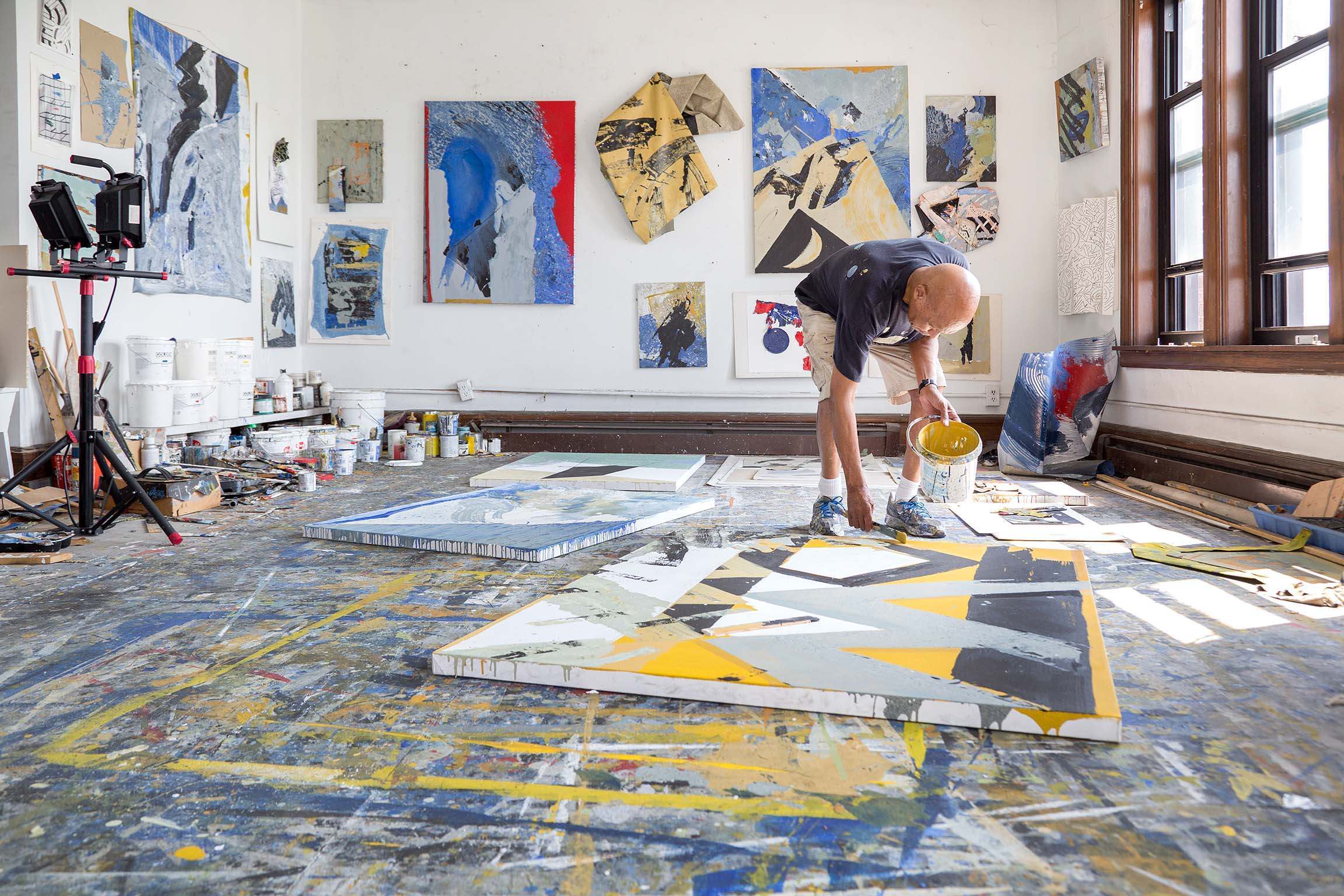 McGhee can be found in his studio "every single day except Christmas," and this exhibition is a crescendo of his daily experiments over the years. McGhee's vivacious mind has also rendered his studio as an important place for lively conversations across generations, particularly in the Black artistic community. The background of these discussions is often set to the sound of jazz, a musical ethos of improvisation and lyrical abstraction that also emerges throughout McGhee's practice.
Allie McGhee: Banana Moon Horn is organized by Cranbrook Art Museum and curated by Laura Mott, Senior Curator of Contemporary Art and Design
Acclaimed both locally and nationally, Tunde Olaniran is a multifaceted visual artist, musician, singer, and performer from Flint, Michigan. Tunde Olaniran: Made a Universe is the culmination of his creative desire to incorporate music composition, performance, dance, handmade costumes, and art installation into an ambitious new body of work.
Tunde Olaniran: Made a Universe has the narrative arc of a hero's journey. The exhibition features a series of videos that takes its inspiration from the kind of archetypes found in comic books, such as the New Mutants storyline in the X-Men series. Within this premise, the character's often perceived weakness translates into their unique superpower. Olaniran applies this transformation to the personal narrative of his own intersecting social identities, which he self-describes as "a child of an immigrant, gender non-conforming, fat, poor, and Black." In this imagined parallel dimension, the artist triumphs over a series of trials and evolves into a superhuman force. The film series Made a Universe examines what it means to unlock your power in the face of fear and repression, and how one must unify various fragments of their psyche to connect with the world and themselves on a deeper level. The series, shot on location throughout Detroit, is directed and scored by Olaniran and features collaborations across artistic mediums with several multidisciplinary, award-winning artists. This multimedia production explores themes of agency, liminality, human connection, and psychic and emotional power.
Tunde Olaniran: Made A Universe is organized by Cranbrook Art Museum and curated by Laura Mott, Senior Curator of Contemporary Art and Design. The film series is produced by Paige Wood. The project is generously supported by The John S. and James L. Knight Foundation, The National Endowment of the Arts, Jennifer and Dan Gilbert, Don Manvel, and additional support by Library Street Collective.

Olga de Amaral, one of the most recognized names in Latin American art, lives and works in her native Bogatá, Colombia. Tracing the artist's career over five decades, Olga de Amaral: To Weave A Rock is the artist's first major museum retrospective in the United States, consisting of some 60 works that elucidate her seminal influence and technical innovations. The artist was first introduced to the medium of fiber during her studies with Marianne Strengell at Cranbrook Academy of Art from 1954-1955. Since that time her work has prolifically evolved beyond the functional qualities of weaving into more experimental and sculptural woven forms.
Amaral's woven sculptures are the result of a lifetime of experimentation and material studies drawing on techniques like plaiting and wrapping, using materials as varied as horsehair and gold leaf. Amaral has formed a unique visual language of abstraction that draws upon Colombia's landscape and history as well as the artist's own identity. Taking its title from an assignment Amaral had given to her students at the famed Haystack craft school in 1967, the exhibition Olga de Amaral: To Weave a Rock poetically expounds on her expansive views of textile practice. Still practicing in her eighties, Olga de Amaral's work offers a prescient exploration of the expressive potential of fiber at a moment of renewed interest in the medium by contemporary artists and historians alike.
Olga de Amaral: To Weave A Rock is organized by Cranbrook Art Museum and The Museum of Fine Arts, Houston. The exhibition is curated by Laura Mott, Senior Curator of Contemporary Art and Design, and Anna Walker, Assistant Curator, Decorative Arts, Craft, and Design, The Museum of Fine Arts, Houston. The project is generously supported by The National Endowment for the Arts, a Craft Research Fund Grant from the Center for Craft, and The Graham Foundation for Advanced Studies in Fine Arts.

Shapeshifters explores the artist's ability to redefine themselves, transgress their chosen medium, and transcend the world around them in utterly unique ways. Through the lens of artistry, these transformations are examined in a broad range of artworks from the museum's permanent collection, presented in four galleries, each with a distinct focus. "Freeze Frame" panels are located throughout the galleries that focus on specific artists and tell their stories of artistic risk and innovation.
Hard Edge/Blurred Lines considers abstraction as an aesthetic strategy to unearth a wealth of individual approaches and philosophies, ranging from ancient sacred geometries to urgent societal concerns. For instance, post-war artists such as Jo Baer and Agnes Martin embrace their own versions of abstraction as a form of visual language that transcend patriarchal narratives—beyond nation, gender, and societal hierarchy. Martin in particular saw her work as a lineage from ancient Egyptian, Chinese, Greek, and Arabic artists. Similarly, Ato Ribeiro (Cranbrook Academy of Art '17) creates wooden compositions that are informed by the ancestral communication set into the patterns of Ghanaian Kente cloth and African American quilts. Alternately, an adjacent gallery investigates the amorphous possibilities of abstract painting to create an alternate expression of the world. Processes that embrace movement and spontaneity are evident in the work of Joan Mitchell, Sam Gilliam, and José Joya, while the painterly glazed surfaces of ceramicist Toshiko Takaezu are experimental collaborations with the fire of the kiln.
If abstraction in art promised to transcend conventional depictions of reality, then photography offered to capture it. But such an expectation are subverted by artists who use photographic processes and images in their work to expand the definition of their respective medium. Exploding the Frame presents artworks that utilize alternative methods and unconventional strategies. For example, Brittany Nelson (CAA '11) employs camera-less photography based on nineteenth-century darkroom techniques, merging them with the digital to expand photography beyond the representational, while Robert Rauschenberg's collage-based works appropriate images from existing photographs to bridge the gap between documentation and invention.
Transformation as an act of claiming agency and asserting dignity in contemporary art is thematically explored in Sea Change. Through processes of foregrounding, altering, shielding, and abstracting the human figure, these artists create works that psychologically mirror the complexity of societal constructs and inequalities. Richard Yarde brings center stage larger than life figures from African American culture, setting them in the scale of monumental portraiture historically reserved for colonizers. From a new generation of masterfully skilled figurative painters, Conrad Egyir (CAA '18) presents himself in three different shades of skin color challenging the systemic hierarchies of identity, while Marianna Olague's (CAA '19) portraits feature individuals from her personal history living on the US-Mexico border, giving prominence to those often marginalized.
Exhibited for the first time at the museum, Nick Cave's (CAA '89) Up Right: Detroit is a short film created during the artist's exhibition and performance series Nick Cave: Here Hear in 2015. Commissioned by Cranbrook Art Museum, the film features a powerful transformation of selfhood orchestrated with participants from the Ruth Ellis Center, a center for LGBTQ+ youth, and the Mosaic Youth Theatre from Detroit. In a rite of passage ceremony, "Practitioners" dress "Initiates" in Cave's canonical Soundsuits created especially for this work. The participants undergo a metamorphosis through the initiation, emerging as strong and fearless beings.
Shapeshifters features works from the collection by Richard Anuszkiewicz, Jo Baer, Ebitenyefa Baralaye, Romare Bearden, McArthur Binion, Susan Goethel Campbell, Anthony Caro, Nick Cave, Nicole Cherubini, Sonya Clark, Liz Cohen, Conrad Egyir, Beverly Fishman, Kottie Gaydos, Sam Gilliam, Kara Güt, Carole Harris, Matthew Angelo Harrison, José Joya, Donald Judd, Agnes Martin, Allie McGhee, Marilyn Minter, Brittany Nelson, Kenneth Noland, Marianna Olague, Robert Rauschenberg, Ato Ribeiro, James Rosenquist, Beau Sinchai, Julian Stanczak, Frank Stella, Maya Stovall, Toshiko Takaezu, Carl Toth, Kara Walker, Andy Warhol, and Richard Yarde, among others.
Purchase general admission here.
Virtual Tour of Shapeshifters: Transformations in Contemporary Art
For more information about Shapeshifters: Transformations in Contemporary Art, click here.
---
Shapeshifters is indebted to the significant gifts on view from the Dr. John and Rose Shuey Collection, the Andy Warhol Foundation for the Visual Arts, and recent acquisitions from the Estate of George Francoeur and Gerald Earls.
Cranbrook Art Museum is generously supported by the Maxine and Stuart Frankel Foundation, the Fred A. and Barbara M. Erb Foundation, the Kresge Foundation, the MASCO Foundation, and the Museum Committee and ArtMembers at Cranbrook.

The most innovative work from the next generation of architects, artists, and designers will be on display at the 2021 Graduate Degree Exhibition of Cranbrook Academy of Art. The Degree Exhibition showcases pieces that are the culmination of two years of studio work from a diverse group of graduates as they launch their careers.
The show opens to public on Sunday, April 18, with a special ArtMembers Preview Day on Saturday, April 17. In compliance with safety and health regulations, all visits must be scheduled in advance.
Purchase general admission here
MArch
Wade Meadors
Zofia Pietrowicz
Jessy Slim
Daniel Smith
MFA
Melika Abikenari
Zahra Almajidi
Nelly Anderson
Katelin Auman
Morgan Bouldes
Colby Charpentier
Shudi Chen
Zhuo Chen
Robert Crossno
Elisabeth Q. Diamond
Samantha Dienst
Demario Doston
Rebecca Frantz
John Gelardi
Neva Gruver
Danielle Gumbin
Nicole Gunning
Nathan Henry
Lauren Holden
Xianda Hu
Forrest Hudes
Kaylie Kaitschuck
Declan Knight
Brian Kovach
Kendal Kulley
Steven Kuypers
Maura Latty
Sijie Li
Yang Li
Grace Makuch
Sylvain Malfroy-Camine
Isabelle McCormick
Ian McLaughlin
Anne Meyer
Meredith Morrison
Clara Nulty
Bradley Oeschler
A. F. Oehmke
Jaeyeon Park
Rebekka Parker
Peppa
Malik Purvis
Michael Rosales
Lindy Shewbridge
Elizabeth Shoby
Yuming Song
Dessislava Terzieva
Brach Tiller
Elysia Vandenbussche
Jake Vinson
Melissa Webb
Kevin Weeder
Sophia Wojnovich
Qualeasha Wood
Lindsey Woodward
Rence Xu
Megan Young
Alivia Zivich
In 1932, a remarkable educational experiment opened on the Cranbrook campus in the suburbs of Detroit, a new Academy of Art for advanced studies in the visual arts. Described by the New York Times as "part laboratory, part atelier, and part artist's colony," Cranbrook Academy of Art dedicated itself to the education of artists, architects, designers, and craftspeople. Rooted in the contemporary, its mission and vision was simple: to support the individual artist's search for an expression unique and resonant to her time. Widely considered the cradle of mid-century design in America, the Academy quickly became a national and international leader, a reputation that holds true today as one of the top-ranked programs of its kind in the world.
Conceived as a radical experiment in the education of artists, Cranbrook Academy of Art rejected the academic and theoretical focus of arts education of the day and instead embraced individual creativity and expression through the actual making of work as a cornerstone of its philosophy. It encouraged the exploration of alternative materials, innovative processes, and new ideas across disciplines through both self-education as well as collaboration with peers. In this way, it was and remains a student-centric pedagogical environment. 
The Academy not only pioneered a more organic and human-centric approach to modern design in America starting in the 1930s and helped shape the Studio Craft movement in America in the postwar period, but also radicalized the fields of architecture and design in the 1980s during the advent of postmodernism. Although many schools of radical art and design emerged in the twentieth century–places such as the Bauhaus or Black Mountain College–only Cranbrook Academy of Art remains today as a vital force in the worlds of art, architecture, craft, and design. 
With Eyes Opened, surveys the history of the Academy since its official founding in 1932. With more than 250 works representing the various programs of study at the school–architecture, ceramics, design, fiber, metals, painting, photography, printmaking, and sculpture–the exhibition occupies all of the museum's galleries. The largest such examination of the Academy since the landmark 1983 exhibition, Design in America, With Eyes Opened will be accompanied by a 600-plus page publication that chronicles the history of this storied institution and will feature 200 alumni representing the various programs of study, both historical figures and emerging voices, who have made remarkable contributions to the visual arts.
Galleries within With Eyes Opened: Cranbrook Academy of Art Since 1932
The exhibition is organized into a series of nine galleries that highlight the Academy's contributions to the fields of art, architecture, craft, and design.
Architecture of the Interior

Cranbrook Academy of Art achieved acclaim for its innovations in architecture and design from the start. Led by the Academy's founding President Eliel Saarinen, the program attracted top talent, including Charles Eames, who would meet his wife Ray Kaiser at Cranbrook and together became arguably the most important designers in twentieth-century America.

Florence Knoll would revolutionize modern office design for corporate America. Her friends at Cranbrook, such as Harry Bertoia and Eero Saarinen would introduce now-iconic furniture pieces for her company, Knoll International. This hotbed of talent would incubate a particularly American version of modern design, earning the Academy the moniker of the "cradle of mid-century modernism."

These innovators would be followed by other designers such as Ruth Adler Schnee, Gere Kavanaugh, Clyde Burt, and John Risley, all of whom embraced wit and whimsy. The sculptural and expressive Brutalist furniture of artists such as Paul Evans continues through the contemporary designs of Chris Schanck and Jack Craig. Radical experiments in furniture, such as Urban Jupena's fibrous lounge seating element, Ken Isaacs' build-it-yourself Superchair, and an early pioneer of human-centered design and ergonomics—Niels Diffrient's Humanscale each charted new design horizons.
Cranbrook and the Chair

No other design school has had more alumni and faculty contribute to the development of the modern chair than Cranbrook. Charles and Ray Eames created innovative chairs for Herman Miller, while Eero Saarinen, Harry Bertoia, and Florence Knoll added their designs to the Knoll portfolio.

Cranbrook dominated the genre of stacking chairs, with innovations by Don Albinson, whose clever design kept a stack of chairs in perfect alignment, David Rowland, who created a high-density stacker, and Hugh Acton, who designed the first ergonomic stacking armchair. Office task chairs were created by former Designer-in-Residence Michael McCoy, and alumni Niels Diffrient, and Charles and Ray Eames.

Cranbrook and the Chair celebrates artist-designed furniture, which has also been pioneered by the Academy through the work of Terence Main, Chris Schanck, Jonathan Muecke, Vivian Beer, Jack Craig, Jay Sae Jung Oh, and Evan Fay, among many others.
The Mixing Chamber

With no formal classes, the Academy is known for artists and designers who work across and between artistic mediums. In the Mixing Chamber gallery, we highlight the interdisciplinary nature of Cranbrook by featuring a new immersive mural by Cleon Peterson, who studied graphic design but practices primarily as a visual artist. In the center of the space is a chaise lounge by Vivian Beer, a Metals alum who primarily works in furniture. In a nod to the historic use of this space, we have created a contemporary rendition of this once classical gallery with a new sculpture by Tony Matelli framed by floor-to-ceiling draperies designed by Ruth Adler Schnee, whose 1948 design, Strata, was adapted by KnollTextiles in 2012.

Although the age of the artists shown in this gallery is separated by nearly a half-century, there is shared energy that captures how artists can push boundaries and transcend disciplines in their search for the new.
Salon Abstraction

In a dramatic floor-to-ceiling installation of paintings, photographs, prints, and sculptures, this gallery highlights the use of abstraction across the Academy.

As a complement to the figurative work of artists-in-residence Carl Milles and Zoltan Sepeshy, abstraction would enter the Academy through artists such as Harry Bertoia, and painting instructor Wallace Mitchell. Alumni such as José Joya, Frank Okada, and Wook-kyung Choi devoted their painting practices to abstraction. The canvas itself becomes a shaped figure in the work of artist-in-residence George Ortman, John Torreano, and artist-in-residence Beverly Fishman, whose pieces attain sculptural depth and symbolic meaning.

The materiality of painting is foregrounded in works by Jessica Dickinson, Rosalind Tallmadge, and James Benjamin Franklin, each of whom enhance painting's tactile dimension through substances like plaster, epoxy, sand, sequin fabric, or carpet.

In the 1980s, Carl Toth used the photocopier machine as a camera, combining images through collage. Contemporary artists such as Sheida Soleimani and Chanel Von Habsburg-Lothringen use photomontage to explore themes of violence and gender, while the camera-less images of Brittany Nelson use antique photographic processes to create alternative imagescapes.
The Sculpture Court

Sculpture is a founding discipline at Cranbrook, originally led by Carl Milles, whose 69 bronze figures adorn the Cranbrook campus. Milles attracted students such as Marshall Fredericks, who would go on to create Detroit's iconic Spirit of Detroit. The figurative impulse would continue in Duane Hanson's life-like sculptures of people or the surreal animal-human hybrids of Kate Clark, counterbalanced by more abstract approaches, such as Tony Rosenthal's Cranbrook Cube. Other artists have explored found materials and everyday objects as points of departure, such as Donald Lipski and James Surls, or artist-in-residence Heather McGill.

The scale and freedom of sculpture appealed to students in other departments as well, particularly the crafts. Large-scale fiber works by Olga de Amaral, Sonya Clark, and Nick Cave are complemented by the ceramics of Toshiko Takaezu and artist-in-residence Jun Kaneko. Even the practice of architecture at Cranbrook is akin to sculpture, as seen in the designs of Eero Saarinen and contemporary practitioners, such as Hani Rashid.
Object Islands

The object plays a profound role in the education of artists at Cranbrook, serving as evidence of time spent making in the studio giving form to innumerable ideas. This seems especially so in the fields of Ceramics, Fiber, and Metals, which have enjoyed great reputations at Cranbrook.

Although described by their respective materials, each discipline has exceeded such boundaries, as witnessed by ceramicists such as artist-in-residence Richard DeVore, Annabeth Rosen, and Marie Woo. In Metals, Myra Mimlitsch-Gray explores the social history of the material, while an artist such as Chunghi Choo has perfected the ability to sculpt her fluid forms in metal. Artists such as Joan Livingstone and Anne Wilson continue to push the boundaries of the field of fiber.

The desire to upend expectations can be seen in the "anti-jewelry" of J. Fred Woell or in the work of artist-in-residence Iris Eichenberg; the radical basket weaving of Lillian Elliott and her mentor Ed Rossbach; or the creation of the field of studio glass by Harvey Littleton, who had studied Ceramics. Even in the design fields, the influence of crafts can be found in the experimental use of materials and techniques and the beauty of handcrafted product design models made before the era of 3D printing and computer modeling.
The Portrait Gallery

Cranbrook artists continue to re-conceptualize the portrait through painting, sculpture, and photography, reinventing the traditional genre through a contemporary lens.

Work by Zoltan Sepeshy and Artis Lane shows each one's approach of capturing the sitter's essence through a figural likeness. Painter Charles Pachter has collaborated with his friend author Margret Atwood, capturing her spirit on canvas. Marianna Olague, Jova Lynne, and Conrad Egyir explore the social and political underpinnings of portraiture while reclaiming space for their subjects.

Corine Vermeulen and Liz Cohen use the documentary style of photography, but add their contemporary interpretations to transform the work into narratives of their subjects while Shanna Merola and Ricky Weaver employ the techniques of collage and doubling respectively to disrupt distinct identities. Shiva Ahmadi infuses the Persian tradition of miniature painting with social critique while Sarah Catherine Blanchette subverts familiar forms in favor of fragmentation and re-materialization, turning photos into luxurious fiber.
The Menagerie

Just as artists have historically drawn inspiration from the animal kingdom, this menagerie illustrates the ongoing relationship between man and beast. Marshall Fredericks' Two Bears and Carl Milles' Running Dogs appear alongside abstracted interpretations of wildlife such as Betty Ford's angular Fox and Gabriel Kohn's boxy, horned Animal. Tapping into the surreal, Patricia O'Connor's Domesticated Affection deconstructs the lovebird, while Stephen Milanowski's Cafeteria captures a perplexing, humorous mise-en-scene: a bison in a cramped dining hall. Waylande Gregory's large-scale aquatic figures conflate fantasy and reality.

This gallery extends the collection beyond the museum walls, showcasing sketches for many of the naturally-inspired works found on Cranbrook's campus, from the Milles' sketches for both Europa and the Bull and Running Dogs to small decorative elements such as Fredericks' water spigots which take the shape of a Japanese goldfish, lizard, and frog.
Paper Trail

The print and the poster at Cranbrook remain dominant forms of expression for both artists and designers. Printmaking (now Print Media) became its own department at the Academy in the 1960s under Laurence Barker, who accelerated the trend of hand papermaking in America through the 1970s and 1980s. Alumni such as Winifred Lutz have showcased paper as both a material and medium.

The reputation of the Academy's influential graphic design program grew tremendously through its use of the medium from the 1970s through the 1990s under the tenure of designer-in-residence Katherine McCoy. The use of collage and photomontage techniques that layered provocative photography and illustration with progressive typography, decades before the desktop computer, can be seen in the promotional posters for Academy programs created by her and students of the design program in the 1970s and 1980s.

More oblique statements and personal messages dominated the poster work from designers in the 1980s and 1990s, and this tradition of experimental design continues with designer-in-residence Elliott Earls, whose prints, installations, and video work routinely crosses media and transcends disciplinary expectations.
The Playground

Jim Miller-Melberg, who studied sculpture, supplied cast concrete playground features to parks around the country for decades through his company, Form. Millions of children have likely played on his iconic, mid-century designs that included abstract forms along with signature animals, such as his turtles, porpoises, and camels.
---
Cranbrook Art Museum is grateful to the following for their generous support of the exhibition and publication:
Major Sponsors
The Maxine and Stuart Frankel Foundation
The Robert S. Taubman Family & the Alfred Taubman Foundation
George Francoeur Art Museum Exhibition Fund
Jeanne and Ralph Graham Exhibition Fund
David Klein and Kate Ostrove Exhibition Fund
Sculpture Court Sponsor
Major Gallery Sponsors
Clannad Foundation
Frank Edwards and Ann Williams, in honor of Cranbrook Center for Collections and Research
Lynn and Bharat Gandhi, in honor of Iris Eichenberg
Mercedes-Benz Financial Services
Gallery and Artist Sponsors
Karen and Drew Bacon
Emily Camiener and Marc Schwartz
Peggy Daitch and Peter Remington
Denise Anton David and Rick David
Leslie and Jeff Etterbeek
Jennifer and Dan Gilbert
Roz and Scott Jacobson
Cathy and Jim Rosenthal
Isabelle Weiss and NEXT:SPACE
Carol Ziecik
In-Kind Sponsors
Herman Miller
Knoll Inc.
KnollTextiles
(as of May 7, 2021)