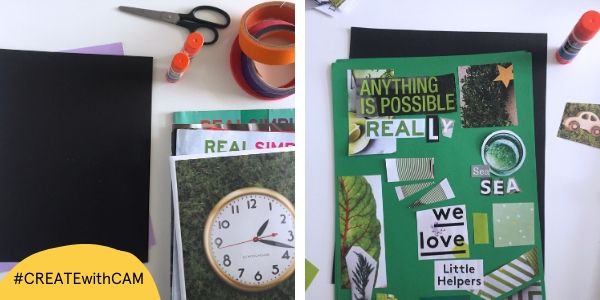 ---
2D Tuesday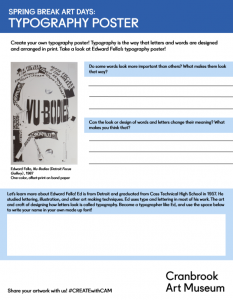 Collage your own monochromatic poster, inspired by designer Ed Fella!
Grab your materials: paper for the base (any color!), tape or glue, scissors, and magazines or newspapers!
 Pick a color and cut out text and images you like in that shade! (We choose green!) Look for patterns and words that inspire you.
 Layout your monochromatic images and words on your paper, arrange them any way you want. Try mixing words and letters to get different messages. Once you're happy with your artwork glue or tape in place! Repeat with a new color!
Share your design on social media with #CREATEwithCAM.
Ed Fella is an American graphic designer, artist, and educator. Fella is a Detroit-native and he became connected with Cranbrook when he followed his employer, Katherine McCoy, to campus when she became the co-head of design with her husband, Michael McCoy.
Fella's design work is known for art distorted text and collaging high and low imagery.
Read more about Fella's time journey to Cranbrook in this blog from Kevin Adkisson of the Cranbrook Center for Collections and Research.