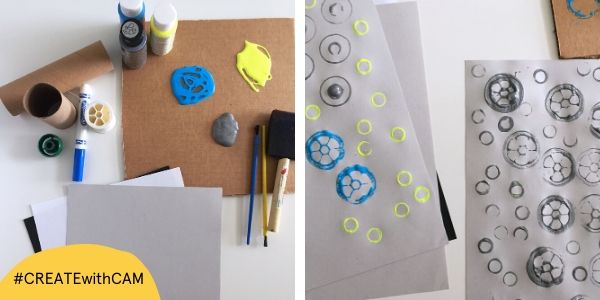 ---
Picturesque Prints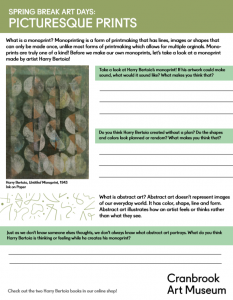 Create your own monoprint inspired by the work of Harry Bertoia
Grab your materials: wooden blocks, cardboard, paper towel rolls apples, potatoes, and celery work as material to create your stamp! Be creative! Use kid-friendly paints, stamp pads, or markers on your stamp and start printing!
Share your monoprint on social media with #CREATEwithCAM.
Harry Bertoia is an Italian-born artist who excelled in many disciplines. He is well known for designing a collection of wire chair collection for Knoll Inc. He created over 50 public art pieces, developed Soundambient sculptures, crafted unique modern jewelry, and used color to make monoprints with a uniquely layered depth.
He developed his printmaking style while he was here in Michigan at the Cranbrook Academy of Art. When he sent a large number of prints to the Guggenheim Museum of Non-Objective Art for review and critique, they were purchased in total for their collection by Hilla Rebay, who helped found and was the museum's first director. This marked a significant turning point in Bertoia's recognition in the international art community.
See more of Bertoia's monoprints from The Harry Bertoia Foundation.