Saarinen House: A Total Work of Art
Saarinen House is Eliel Saarinen's Art Deco masterwork and the jewel of Cranbrook's architectural treasures. Designed in the late 1920s and located at the heart of Cranbrook Academy of Art, from 1930 through 1950 Saarinen House served as the home and studio of the Finnish-American designer Eliel Saarinen—Cranbrook's first resident architect and the Art Academy's first president and head of the Architecture Department—and Loja Saarinen—the Academy's first head of the Weaving Department. The extraordinary interior, now impeccably restored, features the Saarinens' original furnishings, including Eliel's delicately veneered furniture and Loja's sumptuous textiles, as well as early furniture designs by their son, Eero Saarinen.
Upcoming Tours
The Saarinen House public tours are available seasonally. See the Center for Collections and Research website for detailed visitor information and updates. Private tours and group tours are available per staff availability; please call the Center at 248.645.3307 for more information.
Off-season Tours
Cranbrook Center for Collections and Research offers limited private tours off-season, from November through April. Please contact the Center at 248.645.3307 for details.
Staff-guided public tours of Saarinen House depart from Cranbrook Art Museum's outdoor peristyle. To purchase tickets please contact the Center at 248.645.3307. Advanced reservations are required.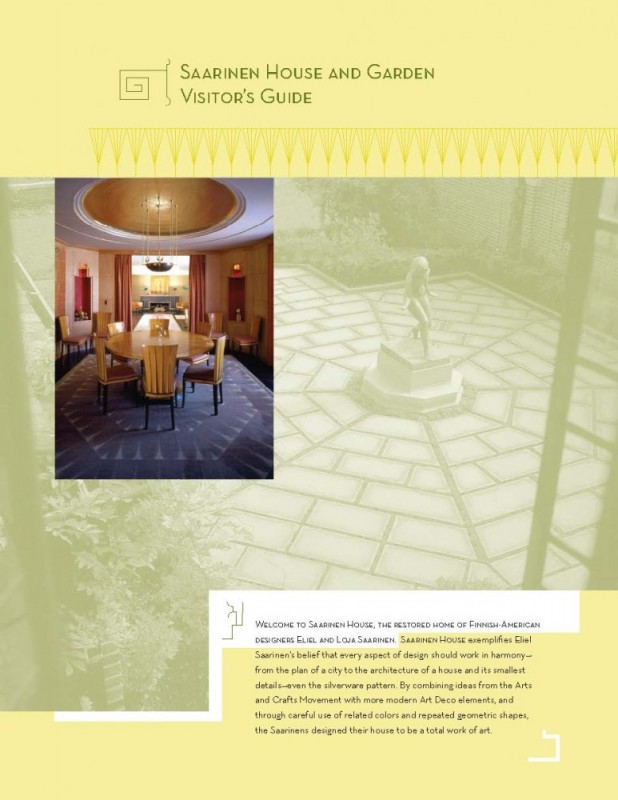 Saarinen House and Gardens Visitor's Guide
Download